Editor's note: This post was originally published on March 28, 2018 on The Wiley Network.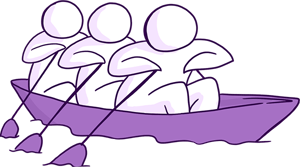 Buying and selling has changed, and sales effectiveness has suffered. Modern buyers are empowered. They're less loyal. They don't see the value of meeting with sellers until it's time to negotiate price. As a result, products are unfairly commoditized and sellers struggle to be more effective in connecting with buyers and making their numbers. What do sellers need to do differently so buyers will want to meet with them? What will it take to improve your sales effectiveness?
Research shows how to improve your sales effectiveness
We set out to answer this question in our research study with 530 business-to-business (B2B) buyers and over 500 sellers. We learned about the extraordinary things that happen when sellers guide buyers by transforming values into actions, visions into realities, obstacles into innovations, separateness into solidarity, and risks into rewards.
Over 30 years ago, Jim Kouzes and Barry Posner embarked on a similar research project to identify the behaviors of effective leaders. They discovered thirty behaviors that made a difference and grouped them into an evidence-based framework of leadership -- The Five Practices of Exemplary Leadership®. Their work has been validated in 600+ research studies with data collected in more than five million assessments in 72 countries. In our new research, we asked buyers what would happen if sellers exhibited these same leadership behaviors. We also gathered stories from sellers to corroborate our findings. When sellers were at their "personal best," these very same leadership behaviors were at work, being practiced by sellers as they made extraordinary sales.
How do leadership behaviors improve sales effectiveness?
B2B buyers favorably rated all thirty behaviors. The ideal frequency of each behavior is higher, they said, than the current frequency demonstrated by the sellers they do business with currently. Buyers told us they'd be significantly more likely to meet with and buy from sellers who demonstrated leadership behaviors. Sellers who want to get more meetings and make more sales simply need to adopt the exemplary leadership behaviors that buyers prefer. Sales effectiveness improves when sellers show up as leaders in these specific ways.
Adopting leadership behaviors requires no special tools, no process changes, and no permission. It's a choice that individual sellers can make for themselves. Some of the behaviors may require a little practice, but many are easy to exhibit more frequently. Making simple shifts to more frequently behave in accord with The Five Practices makes a difference!
The Five Practices are:
1. Model the Way
Leaders clarify their values and set the example by aligning actions with values. Buyers provided more input about this practice than any other. The importance of follow-through, honesty, and integrity came through loud and clear. Buyer loyalty is the reward for these consistent behaviors.
2. Inspire a Shared Vision
Leaders envision the future by imagining exciting and ennobling possibilities. They enlist others in a common vision by appealing to shared aspirations. Buyers want to connect with and be inspired by sellers who see the larger purpose of their work together, in service of a mission or vision. Buyers don't want sellers to over-promise or tell stories without backing them up with follow-through.
3. Challenge the Process
Leaders search for opportunities by seizing the initiative and by looking outward for innovative ways to improve. They experiment and take risks, learning from experience. Buyers want sellers to stretch themselves instead of being complacent in the status quo or in deference to buyers. Buyers also want to be challenged, but only after sellers have established credibility and trustworthiness.
4. Enable Others to Act
Leaders foster collaboration by building trust and facilitating relationships. They strengthen others by increasing self-determination and developing competence. Buyers want to be involved in brainstorming and co-creating insights. Acknowledging and affirming buyer ideas and engaging in two-way dialogue has become increasingly important.
5. Encourage the Heart
Leaders recognize contributions by showing appreciation for individual excellence, and they celebrate victories by creating a spirit of community. Buyers want to be praised and recognized for their contributions to a solution – not just thanked for their business. Buyers also want to be encouraged as they navigate inside their own organizations to get approvals and changes needed to introduce new products or vendors.
How to get started on making a shift to leadership
These Five Practices of Exemplary Leadership® give you a behavioral blueprint for improving your sales effectiveness. The more frequently you lead, the more your buyers will respond, and the more you will make extraordinary sales happen.
To get started, you must think of yourself as a leader. Leadership is about relationships, credibility, passion, and conviction, and, ultimately what you do.
At this very moment, you already have the capacity to lead. You already have buyers who want you to lead. The question is: what are you going to do to set aside old-school, sales-y behaviors and to step into your full potential as a leader?
Leading is doing. It's making behavioral choices. Leadership happens in the moment. You have many moments with your buyers in which you can choose to lead. Every one of those choices will improve your sales effectiveness, your relationship with your buyers, and the extraordinary sales you're about to make.
To learn more on how you can put these practices into action, read Stop Selling and Start Leading.