You're working harder than you've ever worked. Long hours, increasing levels of responsibility, more risk in every decision you make. So why does it seem like you're stuck in this role with no more opportunities for career advancement?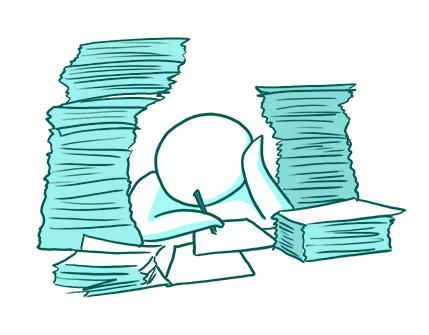 The answer is that you're doing too much. No, really, you can't get ahead when you're doing all that work yourself. You've come to a turning point and haven't made the turn. That's why you're off track.
This is a common misunderstanding. Getting a promotion does not mean doing more work. It means doing a different kind of work and managing processes so you can get more work done through other people.
New managers often make the mistake of trying to continue doing the work they did as individual contributors. They micro-manage and take over work that others could (and should be doing). The limit their own potential because they are limiting the contributions others are able to make.
Career Advancement Comes to a Grinding Halt When Managers Fail to Give Up Control
This may seem counter-intuitive. To succeed and grow in your career, you've got to give up control.
Giving up control gives you freedom to focus on higher level strategic work and to spend time supporting the development of team members. Managers who give up control and trust others create positive work environments and have higher levels of employee engagement.
Resource: Download this free Employee Engagement Checklist to improve your effectiveness as a leader.
Clinging to control adds to your daily workload. It takes time, energy and effort when you're inspecting others' work, weighing in on even the teeniest of decisions, and intervening to take over work others could do themselves.
By not giving up control, you're losing control. Being "in the weeds" means you can't see the path ahead. You can't proactively anticipate, plan and prepare for what's next. Instead, you'll constantly be putting out fires and bottle necking progress.
Your lack of trust and micro-managing behaviors will alienate employees and make you less effective as a leader. You'll see an increase in turnover and a decrease in productivity. That will exacerbate the situation and thrust you even deeper into the weeds.
By not giving up control and entrusting work to others, you've set yourself up to fail in the current role. So why would anyone consider you for a next-level role?
Career Advancement Is for Leaders, Not Doers
When you become a manager, it's time to stop doing the work you used to do.
Sure, there will be exceptions. There will be times when you have to roll up your sleeves, times when you need to get in the trenches, times when you need to do the work.
Exceptions.
Day-to-day, the work you need to focus on is now about building the business, the team and the people. You'll be managing processes and work flow. You'll also be leading people.
That means you need to know about the differences between managing and leading. And you'll need to develop yourself in both roles if you want to advance in your career.
Leaders contribute more to an organization because they inspire, enable, ennoble, empower and ignite others. More gets done because more are capable and contributing at their fullest potential.
"A good leader inspires people to have confidence in the leader. A great leader inspires people to have confidence in themselves."

- Eleanor Roosevelt
Doers can have the opposite when they are in manager roles. They more you do yourself, the less you're enabling and allowing others to do. They aren't developing, and neither are you. The stagnation can be crippling to an organization.
You Won't Be Considered for Career Advancement as Long as You're Doing the Same Old Thing
What got you here won't get you there, says Marshall Goldsmith in his book that helps successful people find even greater success.
As others look for high potential leaders who can be entrusted with emerging challenges and sustained business growth, they are watching how managers impact their teams. If you're not developing people and taking personal risks to stretch yourself, then you aren't demonstrating readiness for the next rung on the ladder.
In order to reach up for that next rung, you've got to let go of the one you've been hanging on to. Let go.
Next steps for letting go in ways that will help others and help you, too
Simple tools will be delivered each week via email to help you become a better leader.
2. Learn about delegating for development, coaching and mentoring with our BrightTALK series for effective management.
Start with this one
and then check out all the others. They're free and available 24/7 on demand.
3.
Join the CONNECT Community
to receive exclusive videos, infographics and tools for leaders who want to take it to the next level.
Deb Calvert is a certified Executive Coach, Certified Master with The Leadership Challenge® and architect of leadership development programs for nearly 100 organizations. She helps leaders at every level discover and achieve their leadership goals. Deb is the founder of People First Productivity Solutions, building organizational strength by putting people first since 2006.