The concept of servant leadership is often misunderstood and misrepresented. Leaders who buy into the myth that they are supposed to be submissive, subservient and selfless often miss the point entirely.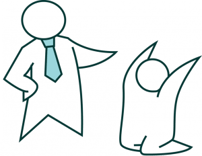 The point of servant leadership is to serve others by thinking of their needs, recognizing their needs and supporting efforts to meet their needs. Doing that requires strength, clear vision, and an undeterred drive. It's not about taking a backseat and deferring to the whims and wishes of others.
When leaders abdicate their lead, they are no longer leaders. They are followers. You can't be both at the same time.
Servant leadership, as originally conceived, is about sharing power. The servant leader isn't command-and-control in style but is a leader nonetheless. The servant leader does not demand hierarchal reporting relationships and doesn't get consumed by the prestige of a position.
Rather, the servant leader invites others to participate. Asking questions, seeking diverse points of view, actively listening, enabling others to develop and make decisions and see their own goals attained... these are all the aims of a true servant leader.
Ultimately, highly effective leaders are more interested in creating more leaders not in gathering more followers. They see themselves as equals to others. They adopt an other-orientation so they are able to be more effective in reaching their own goals, too.
Research demonstrates that effective leaders behave in certain ways. The Leadership Challenge, a book and body of work by Jim Kouzes and Barry Posner, is based on research with over 5 million people who have provided information about the behaviors of leaders. From this work, we know exactly what behaviors make some leaders more effective than others. We have a behavior-based blueprint for leadership. It includes many of the behaviors that some would use to describe a servant leadership model.
That's because followers trust leaders who engage and ennoble them. It's because followers won't follow leaders who isolate themselves or hoard information and power.
Regardless of the leadership philosophy or model you choose, it always boils down to this essence. Leaders -- the ones who others will eagerly and willingly follow -- frequently demonstrate 30 specific behaviors. If you would like to lead and to be effective when do, these behaviors are the place to start. They will prevent you from buying into the myths about leadership that can derail or misguide you. When you truly lead, you will be tremendous service to your followers and to others who rely on you.

The CONNECT2Lead Blog and training programs are products of People First Productivity Solutions. We build organizational strength by putting people first. If you'd like to read more this month about Dangerous Myths that Derail Leaders, subscribe to the CONNECT2Lead Blog RSS Feed.

Editor's Note: This post was originally published April 2015 and has been recently updated.