"Am I invisible?"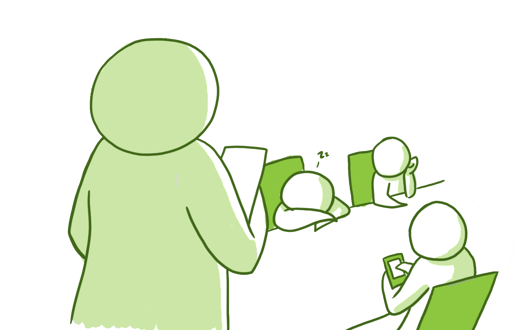 Eileen wasn't joking. She was out of ideas, out of steam and out of patience. She had been trying for months to get noticed. She wanted to be thought of as a high potential emerging leader. But her best efforts, to date, were all in vain.
Eileen tried being more authoritative. She tried being more assertive. She tried to be louder, prouder and more noticeable than her peers. Nothing seemed to be working.
It wasn't a matter of performance. She had been a high achiever and top-rated employee for five years. She was afraid, though, that she'd been relegated to the role of individual contributor. It felt like a punishment for being so good at her job.
Leadership development strategies shouldn't be one-size-fits-all
For Eileen, there were only two options. Leave and get a fresh start someplace else. Or reinvent herself so others would see her leadership potential.
As her Executive Coach, I could instantly see that the potential was there. Eileen thought like a leader. She was a big picture thinker, a strategic planner and a collaborator. She was firmly grounded in her values and rock solid in credibility and trustworthiness.
What she lacked was simply a matter of style. The substance was there but, as Eileen feared, no one was noticing. They looked too narrowly at her current contributions and could scarcely imagine how the work would get done if she wasn't doing it.
It may also have been that Eileen wasn't quite like the other members of the management and leadership team. They had so much in common that, for them, it was difficult to see value in breaking the mold.
When they described their own pathway into leadership, it was clear that it would not be a pathway that would work for Eileen. The executive education course they'd all attended wasn't something that fit Eileen's job schedule or work/life balance. She had three young children at home and spending five weeks away was not an option.
There were other obstacles, too, that made Eileen feel the door just wouldn't be open to her. And some of the coursework the others had completed simply didn't make sense for Eileen who already had an advanced degree in that field.
Leadership development strategies should be selected for their ability to deliver the desired outcomes
Eileen committed to three months of coaching. Our objectives were to help her develop leadership presence and command so her style would reflect her substance and to help her craft her own leadership development plan.
She was at a loss for where to begin. She didn't know what she didn't know, so the idea of crafting a plan was daunting. We interviewed her senior management team to get to the heart of the matter. Our one-question interview was "What outcomes do you expect to see in return for your investment in leadership development?"
Outcomes unlocked the flood gates. As soon as she knew where to aim, Eileen knew what to do. The program she designed for herself had nothing in common with the standard development course other emerging leaders experienced. It wasn't necessarily true that her plan was better... But it was better for her, and it did deliver on every outcome defined in measurable ways.
Leadership development strategies that you can access on your own
Two examples from Eileen's plan.
Outcome 1 -- Become the kind of leader people want to know, want to follow and want to have in their corner every day.
This one overlapped with the style issues Eileen was already working on. She had, even as far back as high school, always been a solo achiever. She counted on herself. Most people didn't even know what she did or how she did it.
Outside of work, Eileen was more collaborative. She was actively involved in her children s school and easily shared ideas and work with others there. She realized she did this when the stakes were low but drew inward when the stakes were high.
To break this habit, Eileen decided to give work and decision-making away to other people. She put a moratorium on her own decision-making. People noticed. They felt included and began to bring ideas to Eileen that stimulated interesting conversations and brainstorming sessions.
Outcome 2 -- Become the kind of leader who is restless and seeking what's new and what's next at every turn.
Eileen realized this was not a strong suit for her. She was a good guardian of the status quo and, although could see the merits of well-planned change, she generally dreaded it. To get more comfortable with change and develop a restlessness for it, she pushed herself out of her comfort zone.
She decided to do something spontaneous and scary every day for three months. Some of her choices were big like going skydiving. Others were relatively small like confronting a co-worker who poached her ideas and claimed them as her own.
She also started asking more questions, including "why?" and "how?" to challenge her own thinking. Her objective was to be less satisfied with routine practices and commonly held beliefs. Within just a few weeks, she was beginning to make changes that yielded positive changes in procedures and team dynamics.
It's only been five months since Eileen started down this path. Already, she feels like she's contributing at a higher level and being seen as a strong emerging leader. She did that on her own. You can, too.
Looking for more outside-the-box leadership development strategies?
Simple tools will be delivered each week via email to help you become a better leader.
3. Find out if 1:1 coaching is right for you. Take this
free self-assessment to
determine if you're a good candidate for executive coaching.
Deb Calvert is a certified Executive Coach, Certified Master with The Leadership Challenge® and architect of leadership development programs for nearly 100 organizations. She helps leaders at every level discover and achieve their leadership goals. Deb is the founder of People First Productivity Solutions, building organizational strength by putting people first since 2006.