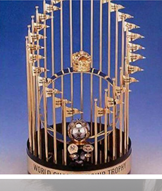 Leading isn't the same as managing.
When a team is well-managed, they perform well. They use metrics and performance standards to produce what's expected.
When a team has great leadership, they do something more. They win.
The Kansas City Royals, a team you barely heard about between 1986-2013, has been winning. Why? Not because they are managed well. Not because they are the best players in the game today. And not because they are lucky.
The Royals win because they have exceptional leaders.
In this case, leadership starts at the top. David Glass, owner. Dayton Moore, GM. Ned Yost, Manager. All three lead in ways that are unusual, at least in major league baseball. They have been overlooked, scorned, and even reviled for making the "poor management" choices they've made. They haven't been given their due credit for their leadership.
David Glass leads for the long-term. He hired a new GM in 2006 and patiently waited for his plan to take shape under Dayton Moore. Glass stood behind Moore when the public turned against him, calling for his ouster after unpopular trades (trades which, in hindsight, were absolutely brilliant).
Dayton Moore leads with conviction. He persevered with the Royals, patient and methodical in building a winning team. He didn't have the big city budget. He made mistakes with hot prospects and with managers. But he built this team, player by player, signing free agents and scouting internationally.
Moore did something else. He believed in the players he recruited. He saw in them what no one else in baseball recognized -- beyond talent and potential, Moore seems to have found players with extraordinary determination and heart. It's so evident in every member of the team, that this can't be coincidental.
And then there's Ned Yost. Has any manager ever been second guessed more often? Even Kansas City turned against him late in the 2014 season and again in 2015 when the team hit a losing streak. What everyone was missing was Yost's master plan, his leadership. Yost knows that you don't play for a single game. In regular season, you build player strength. To do that, sometimes you have to leave a player in the game to suffer defeat. Yost allows players to fail forward, to learn and grow right on into the post-season. For more about Yost, check out this story.
The best leaders build more leaders. Glass, Moore and Yost excel at cultivating leadership. Just watch what happens every time catcher Salvador Perez goes out to the mound to encourage a faltering pitcher. Notice how Eric Hosmer and Mike Moustakas share the limelight every single time. Listen to what pitcher Edinson Volquez says about his teammates and the way they supported him when he lost his father on day one of the World Series.
Story after story, interview after interview, action upon action... The Royals band together as a team and lead each other to unbelievable accomplishments. They don't make sense on paper. No one predicted they would break the records they've broken or come so far this season.
The Royals won all the way to the World Series. Last night, they won the Crown. Their wins are a testament to the impact of strong leadership.
Organizations should take note. This is what it's all about.
If you'd like to read more in this CONNECT2Lead series about how the Kansas City Royals 2015 team exemplifies strong leadership, check back every Monday morning or subscribe to our RSS feed.

The CONNECT2Lead Blog and training programs are products of People First Productivity Solutions. We build organizational strength by putting people first. For more about leading by connecting, check back each Monday or subscribe to the CONNECT2Lead Blog RSS Feed.