Build Buyer Connections with All 12 Dimensions of Trust, including Openness. Openness is defined as "The seller communicates with complete disclosure, doesn't hold back information. Shares opinion even when it's not popular."

This is just one of the 12 ways that sellers can improve buyer connections. Trust determines whether you will connect or disconnect with your buyers. These 12 Dimensions of Trust represent all those ways to form buyer connections. On CONNECT2SELL we've been reviewing each of these 12 Dimensions to empower sellers that want a strong connection built on trust.

"Seller shares opinion even when it's not popular" has become a must-do practice of selling. Buyers expect sellers to support them by bringing new ways of looking at old problems. They also expect sellers to be candid and to fully disclose their own opinions. Because time is precious, buyers don't want to do business with sellers who have nothing new to say.
One way to offer new information effectively is to ask strategic questions prompting buyers to do their own thinking and discovering. This is particularly important for sellers who don't have entirely new ideas and for those who aren't sure how a buyer will react to a new idea. Questions can plant seeds, test the waters and open up the dialogue, making it easier for a seller to share opinions – even those which may not be well-received.
Asking "what alternatives have you considered?" and "what are your thoughts about ___?" create opportunities for opening up conversations. Before you share your opinion, you'll have insights into the buyer's likely reaction. This proactive step ensures empathy and effectiveness as you share your opinion.
Next Steps:
To learn more about DISCOVER Questions® and how to get connected in meaningful ways with your buyers, order your copy of this bestseller from Amazon.com
For more tools, resources and content about connecting with your buyers and advancing the sale, visit our website. You'll find lots of free webinars, infographics and podcasts.
For individual sales coaching, group sales training, bulk book orders, or other services and products, call us today at 408-779-PFPS or e-mail deb.calvert@peoplefirstps.com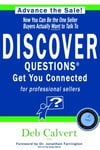 This blog post features an excerpt from the best-seller "DISCOVER Questions® Get You Connected." To learn more about how to connect with buyers and gain their trust, buy the full copy of this award-winning book from Amazon.com as a paperback or e-book. Author Deb Calvert is also available to speak at your next sales conference or to provide training for your sales team on how you can become the ONE seller that buyers actually WANT to talk to.