Buyer Process? What's that?
You may be surprised to learn the buyer has a process, too. You're probably familiar with this progression whether or not you've called it the buyer process in the past.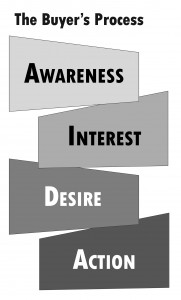 In order to connect with buyers, sellers need to align with them. Once a connection gets out of alignment, sales fall apart. This misalignment is at the root of many lost sales. It happens when:
Sellers hear an expression of mild interest and race ahead to try and close the sale.
Sellers feel time is limited and present features in a rapid-fire method some call "show up and throw up."
Sellers presume everyone is familiar with their products and brands.
Sellers miss buying signals and continue to sell after the buyer is ready to take action (sometimes un-selling a sold buyer!).
Sellers mistakenly view objections or questions as a lack of interest rather than as an expression of interest.
Paying attention to where a buyer is in the buyer process is also a way to show you care. Focusing on the buyer and tracking the stage of the process he or she is in helps the seller to maintain alignment. This prevents the feeling a buyer may have of being rushed or of not being heard and understood.
DISCOVER Questions™ can steer a buyer through their own buying process. Questions are also useful for a seller who wants to check where the buyer is. By asking questions to track the buyer's current position, a seller maintains alignment. This may seem like you are creating more work but taking this extra step actually reduces your selling time. You'll be decreasing confusion and increasing the likelihood of a closed sale with a satisfied buyer.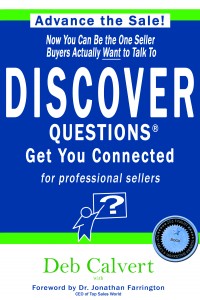 Next Steps:
To learn more about DISCOVER Questions® and how to get connected in meaningful ways with your buyers, order your copy of this bestseller from Amazon.com
When you need sales or management coaching, customized sales training, or a dynamic speaker call us at 408-779-PFPS or book an appointment with Deb.
Check out these resources for sales managers and front line sellers. New webinars, infographics, research, podcasts and more added every month!

The award-winning CONNECT2Sell Blog is for professional sellers who believe, as we do, that Every Sale Starts with a Connection.
Deb Calvert, "DISCOVER Questions® Get You Connected" author and Top 50 Sales Influencer, is President of People First Productivity Solutions, a UC Berkeley instructor, and a former Sales/Training Director of a Fortune 500 media company. She speaks and writes about the Stop Selling & Start Leading movement and offers sales training, coaching and consulting as well as leadership development programs. She is certified as an executive and sales coach by the ICF and is a Certified Master of The Leadership Challenge®. Deb has worked in every sector and in 14 countries to build leadership capacity, team effectiveness and sales productivity with a "people first" approach.