The Real Reason You Need to Know Their Buying Criteria Early On
Here's a question every seller should ask every buyer every time:
What are the top criteria you're evaluating as you make this decision?
Not every buyer will know the answer. But most buyers will be grateful that you've asked and will likely make better decisions as a result of this value-creating question.
What's more, you'll be glad you asked. Just by asking this one question, you'll find out what your buyer values most. You'll get an initial read on how you stack up vs. the competition. And you'll know what to emphasize in the solution you offer.
Webinar: What Buyers Want You to Know & Do Right Now
Ask about Buying Criteria Early On to Fully Qualify Your Buyers
Just ask. As soon as a buyer indicates an interest, ask:
What are the top criteria you're evaluating as you make this decision?
You want to know this as soon as possible so you can be as relevant as possible. It's a qualification question and so much more.
Proceed with caution, though, as you qualify your buyers. Remember that most of them already pre-qualified themselves before taking a meeting with a seller. What that means to you is that they will have limited tolerance for traditional qualification questions.
HubSpot's 2016 Buyer Perception Study revealed the extent of this disconnect: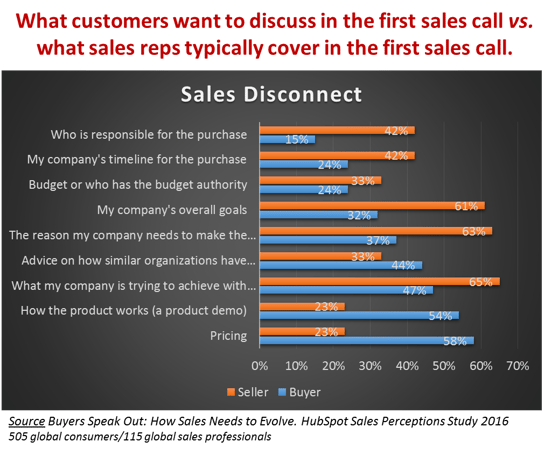 As you gather the information you need, be considerate of the buyer's need to gather different information. Using this chart to balance the early conversations will demonstrate your ability to deliver value. The conversation won't seem one-sided and self-serving.
Do this even if it means breaking the "rule" about talking too soon about price. In last week's CONNCET2Sell Blog post, we covered why and how to talk about this whenever the buyer asks.
In addition to qualifying your buyers by finding out what criteria they will use in their buying decision, using this one question has some additional benefits for you.
Demonstrate Your Value by Aligning with the Key Buying Criteria
You bring value to a Customer Experience when you are relevant, timely and specific to the need. Nothing will ever be more relevant, timely and specific to the need than the top criteria your buyer furnishes.
We can make assumptions about why buyers want our product. Making assumptions is risky, though, and will not be as effective as getting your buyers to say aloud what's going into their decisions.
The more you know about decision criteria, the more you can align and
showcase your solution as being the perfect match. Any question you ask about a decision is a Rationale question, the "R" in the DISCOVER Questions® acronym. Buyers appreciate Rationale questions, especially when sellers listen to their process and criteria.
This can backfire, however, if you don't respect the decision criteria shared. It's not for you to judge. My last car purchase gave me first-hand insight into how upsetting it can be when a seller dismisses what matters most to a buyer.
Having done all my preliminary research, I already knew exactly what vehicle I wanted -- a new blue Infiniti M37. Not a blue G37. Not a black or white M37. Not a used anything.
The sellers at the first two dealerships lost my business by trying to sell me cars I did not want instead of ordering the one I wanted. One went so far as to tell my husband that "women get too hung up on color." I paid more at the third dealership for a blue M37 than I would've at the first dealership for a white one. I waited longer for it, too. Why? Because that's what I wanted and the value was there for me.
The third dealership made the sale by honoring with my decision criteria and respecting my wishes.
Learn about the Buying Criteria for Each Decision Influencer
Decisions are often made by committee. Presumably, then, the committee members would have a clear and consistent understanding of the criteria.
In reality, though, even stated criteria are understood and prioritized differently. By asking each decision maker or decision influencer what he or she will be evaluating, you gather more information and insight.
In some cases, you'll get nuanced details that reveal more than the committee's canned response. At times, new criteria will emerge. This often happens when a functional area is represented by a decision influencer who feels others don't understand a technical need. When you show interest and understanding, you've got a strong ally!
In addition to gathering more information, you'll be building buy in. You will be setting up a partnership and personally responding to the needs of every individual. You will be able to uniquely tailor your solution to meet group needs and individual needs alike.
Few sellers do this. By differentiating yourself and creating value by delivering on the criteria that matters most to each buyer, you will up your win rate and your customers' satisfaction level, too.