Connecting Buyers and Sellers: Are You Making These Mistakes?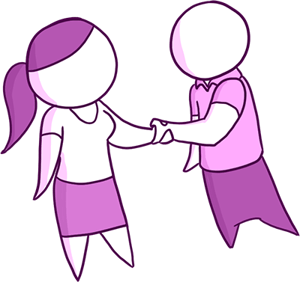 There are lots of activities that are labeled as "connecting" but fall short of being what I consider a true connection. So let's start there. When it comes to connecting buyers and sellers, what is a connection, anyway?
The dictionary says that a connection is a bond, a link, or a union.
If we peel it back, a bond is something that holds two things together. It seems by that very definition that there's something long-term and profound about a bond. A bond is a "binding or joining together; a fastening together to attach firmly or securely in place.
A union brings a whole other level to the definition of connection because a union is something that isn't thought of casually. A union is something that's newly formed and wasn't ever there before. It's "formed by uniting two things and creating a oneness."

What Doesn't Count as Connecting Buyers and Sellers
With those definitions in mind, I don't think a connection is the same thing as a social media invitation being accepted. I don't think a connection consists of leaving a message for someone or merely getting a business card. It's certainly not making an entry into the CRM. Nope.
If you're doing a lot of busy work to send "just checking" emails or to leave "I haven't heard back from you" voicemails, you're not really connecting.
Generic, rote, nuisance contacts are not going to get you connected. There are no bonds being formed with these activities. Buyers resist them because they feel marginalized by sellers who don't personalize contacts and demonstrate value by building true connections.
Behaviors that Create Connections
A connection is something that's been shared together in both directions between two people. It's meaningful. Buyers measure connections by the behaviors of sellers. Here are examples of seller behaviors that were revealed in our research to be extremely important to buyer:
the seller treats me with dignity and respect.

the seller has my best interest at heart.

the seller answers my questions in a relevant and timely manner.

the seller opens a two-way dialogue and seeks my input.

the seller follows through on promises and commitments made

the seller listens to understand my needs and values
All these behaviors, when demonstrated by sellers, cause buyers to feel connected to that seller.
Connections Advance Sales
Connections make people feel special. Connections are much more than transactions – they're human-to-human experiences. They resonate emotionally, not just logically. Connections create bonds of trust, and trust not only gets you in the door but also gives you an opportunity to work long term with a buyer and to be the selected seller over and over and over again.
Connections get return calls and emails. Connections cause buyers to want to champion a seller's cause internally, to get the support that's needed throughout the buyer organization. Connections protect sellers from competitors and poachers who offer something new or different or lower- priced to the buyer.
If you want to form connections with your buyers, start by being a leader -- a guide -- who demonstrates the behaviors of leadership that cause others to willingly choose to follow them and go toward a new place together.
The Five Practices of Exemplary Leadership®, from the original work of Jim Kouzes and Barry Posner, give us the framework to lead. It's an evidence-based framework for how you can lead in a way that buyers prefer. Be sure to get a copy of Stop Selling & Start Leading so you can learn more about The Five Practices of Exemplary Leadership® and how you, in selling, can demonstrate leadership with your buyers to create connections that last.