Here's How You Can Effectively Convert Leads To Sales
(Editor's Note: Today's post about converting leads to sales is from a guest contributor. Deepti Jain is an engineering student who has a knack for writing and works at AeroLeads as a content writer.)
Generating leads is in itself a tedious chore. On top of that, turning those leads to sales may give new salespeople a reason to worry.
However, it's a lot easier than you might think. This is the part where you can strive to generate maximum revenue by serving your potential customer. And you don't have to trick them into buying your product -- you need to help your customers by giving them exactly what they want. Furthermore, today the customer is well informed, is more curious than before, and has options to compare the products.
You must be wondering how you will handle such customers. Well, the short answer to this question is: Change your focus from selling to solving problems.

If you spend a considerable amount of time understanding your customers, you'll be able to discern what your prospect needs. And it's the best way to go about "solving their problems" and eventually converting leads into sales.
Here are some tips to improve your website, follow up strategy, email marketing strategy, your cold calling skills and more, to help you effectively convert leads into sales.


Converting Leads to Sales: More Isn't Always the Answer
First and foremost, analyse whether you need to generate more leads when your previous leads are falling down the cracks. To break it down in simple terms: There's no point in generating more leads if your existing conversion process is not bearing the desired fruits.
Too many businesses are unwittingly focusing on massive lead generation, mistaking it as a sure way to generate sales. However, if you end up losing 95% of your leads, then what good is this strategy doing? In this case you are not only losing sales opportunities, but also pouring your efforts and resources down the drain. So maybe you actually don't NEED more leads or prospects. Instead, you should focus on converting your present leads first.


Design Your Website Per Customer Needs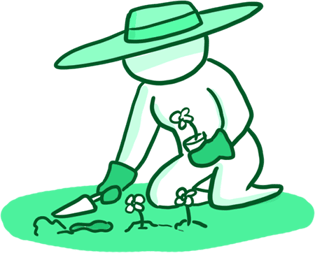 With ubiquitous internet connectivity, customers now do their research before reaching out to the sales representative. In fact, 70% of the buyer's journey is completed before a buyer even contacts the enterprise. Therefore, your website should quench your prospect's inquisitiveness so your prospect doesn't have to turn to other resources to gain information about your product and services.
Every aspect of the information provided on your website should be well thought out in advance. Your website should have an answer to every one of your prospect's doubts, along with next steps to take. For example, if you want them to purchase something, your objective should be clear to the customer and include information that explains why the customer should buy your product.


Ways to Convert Leads Through Your Website
Here are the top five essential things your website should have to convert leads:
1. A Strong, Clear Message
As soon as your prospect lands on your website's homepage, they should immediately know what your brand is, what purpose it has and why should they use your services. Don't make the mistake of being vague. You stand more chances of converting leads by imparting a clear, customer-oriented message.


2. Insightful Content
If your website has too little content then your prospects are likely to be sceptical of the value you offer. Having said that, do not write too-lengthy encyclopedia like paragraphs; that will bore the customers to tears and they will lose interest before reaching your call-to-action.


3. Effective and easily navigable Calls to Action
If you are carrying out a business using your website then surely you want your customer to take some action. Make it clear what do you want your prospect to do. Purchase your product? Subscribe to your newsletters? Provide contact information? So on and so forth. Every page of your website should have a crisp and to-the-point call to action.


4. 'About' Page
Interestingly "About" page receives more clicks than other pages. Before getting into business negotiations, the prospects want to know who is behind the company or website. However, many a website do this mistake of filling their About page with only professional information. But the prospect actually expects personal information about your business together with professional insights.


5. An Informative Blog
Your website is literally incomplete without a blog. It not only augments your page views but also maintains your company's authority.
A website will prove to be an important tool to generate leads and eventually sales. With these five elements added to your website, it is highly likely that you'll be able to bolster your conversion rate swiftly.


Qualify The Lead
First, it's imperative to realise what "qualified lead" means to your business. The definition varies from business to business.
Here's how we can categorise the qualified leads:
A prospect who has shown some intent to buy.

Someone who has filled out a form or asked for a trial.

Prospects whose details have been verified.
This way you know that the lead is actually interested in buying the product and is not just another lookie-loo. This way you can save your time and resources and inject your efforts into convincing only the productive leads.


Make Your Email Marketing Stand Out From The Norm
Email Marketing is one of the most dependable ways to convert leads to sales. But, don't forget that your competitors might also be leveraging email marketing. Therefore, you need to make sure that your email has a little something extra to lure the prospect. And steer clear of overly promotional emails since your prospect's inbox is probably already flooded with similar emails.

How can you make your emails attractive to prospect?
Add relatable, fun facts about your company that might interest your prospect.

Don't make them too sales-y.

Customise your email templates according to your audience.

Make your email mobile- and small-screen-friendly.

Test and review your message before sending it out to multiple readers.

Write a quirky, yet relevant, subject line.

Add effective images and calls to action in your template.
Use the above points and create a clever email marketing campaign to grab the attention of your prospects to eventually convert them into sales.


Follow up the Sale to Smoothly Convert Leads

If you perfect the strategy of sales follow up without being annoying, you'll likely to be able to bolster your conversion rate.
Now you have done it all -- optimized your website per prospect needs, qualified the leads, sent an email. But all this was done within the digital confines. Now is your turn to go beyond the digital realm and connect to your prospect a bit more personally -- by placing a call.
But before placing the call, make sure you have gathered all the required data about your customer so you don't make mistakes in the sales conversations.
Consider this approach:
Hi (name of your prospect). This is (your name) from (your company's name). You showed some signs that you are facing some challenges with ________. We have been considering your situation and I think (something of value) will help you immensely.
Notice, how the above approach makes the whole thing about the customer rather than your product. This is the best way to get 100 percent attention from your prospect and come across as someone who can sort out their problems.
Here are some other sales follow up tips to easily convert leads to sales. Use this three-step process and your prospect will surely bask in the glory of all this personal attention.


1. Get to know your prospect's preferred form of communication.
While I said that now is the time to call your prospects, you should first ask your prospects about their preference. If a prospect is not comfortable with talking to a complete stranger on the phone, you can resort to text messages or emails.

So, before moving forward with your sale, try asking your prospects something like this: "What is your most preferred mode of communication to move further? Would you prefer a phone call, email, or text?"


2. Convey a clearly defined next step.
A lot of times, salespeople end their follow-up call with a vague, "We'll get back to you soon."
This approach not only confuses prospects, but also make them turn to another company. The best way to go about it is asking your prospects when they want to schedule the next call and what you'll do in that next call.


3. Summarise your conversations and send an email.
Upon successfully moving a prospect further down your sales funnel, always send an email summing up the entire conversation.
It will help in two ways. First, it will keep you at the top of your prospects' minds. Second, you can get a written confirmation from the prospect.


Now It's Time to Lead Your Leads
These proven strategies can boost your sales dramatically. And it all starts with the seller exhibiting leadership behaviors when interacting with potential buyers: