You're not creating value. That's a problem.
In our past four posts here in the CONNECT2Sell Blog, we've covered what it means to create value and why it matters. We've explained how easy it is to do...
So why don't more sellers create value in these simple ways that mean so much to buyers?
Reasons Why You Are Not Creating Value
For sellers who carry heavy account loads, there is the multiplier effect to consider. Doing one of the things that would create value for one buyer is easy. Doing several of these for every buyer is abundantly more daunting.
Sellers can have the best of intentions but then get caught up in the endless cycle of must-do work. Packing too many appointments and reports and tasks into every day just naturally results in trimming out the niceties. Unfortunately, this also means giving up the creation of value. You are not creating value if you're swamped by a to-do list of concrete actions or reactions.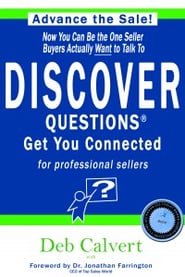 For sellers who focus on new business development, lead generation, prospecting and cold calling, there is often a mindset that more calls will lead to more sales. The "numbers game" may even be reinforced by call quotas or performance standards. Quantity over quality naturally results in trimming out time that could be spent on value creation. You are not creating value if you prioritize quantity over quality.
For sellers who have been trained extensively on product features but never trained in fundamental selling skills (including the basic business acumen to understand the buyer's perspective), there is often no understanding of how or why to create value. Without even knowing it, these sellers may be leaving out the creation of value. You are not creating value if you focus on products.
The Impact of Not Creating Value
Whatever the reason, the result of not creating value is the same. The buyer/seller relationship is compromised. Buyers feel a vague sense of something missing. They feel marginalized instead of feeling special. Some even describe feeling "used" by sellers who rush impersonally through sales calls.
These feelings leave an opening for another seller, your competitor. When buyers are dissatisfied, even vaguely, they are more likely to take calls from other vendors. Their interest and desire for something more can be piqued, and buyers may take action if the new seller creates the value that has been lacking in their interactions with you.
The easiest way to prevent needless customer churn is for sellers to create value in every sales encounter by asking quality questions that engage buyers and make them think. Doing this displays a seller's genuine interest. Value is created, connections are made and sales advance.
Next Steps:
To learn more about DISCOVER Questions® and how to get connected in meaningful ways with your buyers, order your copy of this bestseller from Amazon.com
When you need sales or management coaching, customized sales training, or a dynamic speaker call us at 408-779-PFPS or book an appointment with Deb.
Check out these resources for sales managers and front line sellers. New webinars, infographics, research, podcasts and more added every month!

The award-winning CONNECT2Sell Blog is for professional sellers who believe, as we do, that Every Sale Starts with a Connection.
Deb Calvert, "DISCOVER Questions® Get You Connected" author and Top 50 Sales Influencer, is President of People First Productivity Solutions, a UC Berkeley instructor, and a former Sales/Training Director of a Fortune 500 media company. She speaks and writes about the Stop Selling & Start Leading movement and offers sales training, coaching and consulting as well as leadership development programs. She is certified as an executive and sales coach by the ICF and is a Certified Master of The Leadership Challenge®. Deb has worked in every sector and in 14 countries to build leadership capacity, team effectiveness and sales productivity with a "people first" approach.