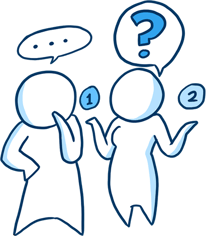 Open-ended sales questions are far more effective than closed-ended questions in getting a buyer to open up and share more information with you.
In a previous CONNECT2Sell Blog post, we illustrated how closed-ended questions can hurt your ability to understand buyer needs and limit your sales conversations. Let's dig into how you can improve the sales questions you ask buyers by making them open-ended.
Related: Make Extraordinary Sales with This Behavioral Blueprint for Success
Notice the Differences in these Closed-Ended and Open-Ended Sales Questions
Look at these "before" and "after" questions to see how closed-ended questions have been retooled. The "after" questions yielded more information for the seller and were viewed by the buyer as more interesting, more thought-provoking and of higher value. In some cases, the open-ended sales questions also sounded less threatening to the buyers.
Before: Can you walk me through the new RFP process?
After: Please walk me through the new RFP process.
Before: Do you prefer a monthly billing cycle?
After: Tell me about your preferences for billing.
Before: Is this important to you personally?
After: How important is this to you personally?
Before: Does this concern you?
After: What about this concerns you most?
Before: May I ask about your budget?
After: What is the budget that's been allocated to this project?
Before: Were you interested in seeing any other options?
After: What additional options are you interested in seeing?
Before: Would you describe your preferred customer?
After: Describe your preferred customer.
Before: Is quality the reason you are looking for a new vendor?
After: What led you to look for a new vendor?
Before: Are you the sole decision maker?
After: Who else will be consulted in making this decision?
Before: Wouldn't you like to increase your productivity?
After: What goals do you have in relation to productivity rates?
The "after" open-ended questions are broader, more inviting and less restrictive than the "before" closed-ended questions. By turning closed-ended questions into open-ended ones, sellers have a better chance of getting high levels of buyer engagement and more information.
The closed-ended questions aren't bad questions. In fact, some of them may be preferred to their open-ended alternatives. That would depend entirely upon what the seller wanted to achieve. If a seller only wants a narrow bit of information such as confirmation, then a closed-ended question like "Do you prefer a monthly billing cycle?" is appropriate. Knowing the difference in question construction plus having a clarity of purpose for your sales questions helps you achieve what you want.
Next Steps:
To learn more about DISCOVER Questions® and how you can make every question count, order your copy of this bestseller from Amazon.com
When you need sales or management coaching, customized sales training, or a dynamic speaker call us at 408-779-PFPS or book an appointment with Deb.
Check out these resources for sales managers and front line sellers. New webinars, infographics, research, podcasts and more added every month!

The award-winning CONNECT2Sell Blog is for professional sellers who believe, as we do, that Every Sale Starts with a Connection.
Deb Calvert, "DISCOVER Questions® Get You Connected" author and Top 50 Sales Influencer, is President of People First Productivity Solutions, a UC Berkeley instructor, and a former Sales/Training Director of a Fortune 500 media company. She speaks and writes about the Stop Selling & Start Leading movement and offers sales training, coaching and consulting as well as leadership development programs. She is certified as an executive and sales coach by the ICF and is a Certified Master of The Leadership Challenge®. Deb has worked in every sector and in 14 countries to build leadership capacity, team effectiveness and sales productivity with a "people first" approach.
Editor's Note: This post was originally published September 2016 and has been recently updated.