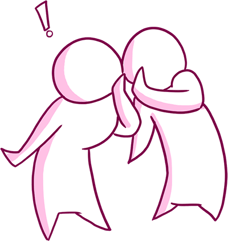 Are you making these common mistakes in your sales conversations? If so, you're not alone. But if you can eliminate these common mistakes, you'll stand out and buyers will enjoy meeting with you.
Sales conversations aren't always smooth. That's why buyers avoid them. It's up to sellers to make these conversations more engaging and less awkward.
The 5 most common reasons sales conversations do not flow naturally are:
The seller is hyper-focused on a list of questions or on a pre-set agenda. The emphasis seems to be on making it through the list without regard for the underlying purpose of any one question or item on the list.
The seller is afraid of objections, new information, questions she might not be able to answer, unfamiliar topics and/or of losing the buyer's interest. She tries to constrain the scope of the conversation so it doesn't get uncomfortable for her.
The seller is painstakingly conscious of the time. He starts by apologizing for taking the buyer's time. He prefaces questions with minimizing statements like "I know you're busy, but if I could bother you for just one more minute…" He checks his watch frequently.
The seller is unable to resist the urge to sell. Something! Anything! Right Now!
The seller is speaking in a language the buyer doesn't understand or doesn't want to understand, using industry jargon or talking about product specifications that are too technical, irrelevant or low value for the buyer.
What's unfortunate about these awkward sales conversations is they happen with such regularity that buyers have come to expect little more when they meet with sellers.
This is one reason buyers are reluctant to set appointments with sellers and buyers choose automated ordering systems rather than working directly with sellers. No one wants to engage in an awkward, unnatural sales conversations. Sellers who take a more natural approach and have regular conversations – interchanges of ideas with two-way communication – clearly have a better shot at connecting with buyers.
Next Steps:
To learn more about DISCOVER Questions® and how to conduct natural and effective sales conversations, order your copy of this bestseller from Amazon.com
When you need sales or management coaching, customized sales training, or a dynamic speaker call us at 408-779-PFPS or book an appointment with Deb.
Check out these resources for sales managers and front line sellers. New webinars, infographics, research, podcasts and more added every month!

The award-winning CONNECT2Sell Blog is for professional sellers who believe, as we do, that Every Sale Starts with a Connection.
Deb Calvert, "DISCOVER Questions® Get You Connected" author and Top 50 Sales Influencer, is President of People First Productivity Solutions, a UC Berkeley instructor, and a former Sales/Training Director of a Fortune 500 media company. She speaks and writes about the Stop Selling & Start Leading movement and offers sales training, coaching and consulting as well as leadership development programs. She is certified as an executive and sales coach by the ICF and is a Certified Master of The Leadership Challenge®. Deb has worked in every sector and in 14 countries to build leadership capacity, team effectiveness and sales productivity with a "people first" approach.
Editor's note: This post was originally published September 2016 and has been recently updated.