Sales-focused questions are one of four types of questions sellers should use with care during the needs-assessment phase of their sales process. Take a look back at our recent posts in the CONNECT2Sell Blog for the other types of questions to avoid.
Buyers are human. Humans love to talk about themselves. If your questions are predominantly about the sale vs. being about the buyer, you are likely to stall out.
Sales-Focused Questions
Questions that inquire about how the buyer would use the seller's product can easily become overly focused on making the sale. Proceed with caution when asking these kinds of questions. The time for these questions is after the seller fully understands the buyer's broader needs.
When a seller opens with sales-focused questions, the buyer will pull back. That's why sellers should avoid asking these questions too early in the sales process.
Sales-focused questions take many different forms. The best way for a seller to ascertain whether a question is buyer-focused or sales-focused is to check his or her own intention. Asking "will this question reveal buyer needs?" can help a seller be more discerning.
Questions about a buyer's broad needs should precede questions about the buyer's needs for the seller's products.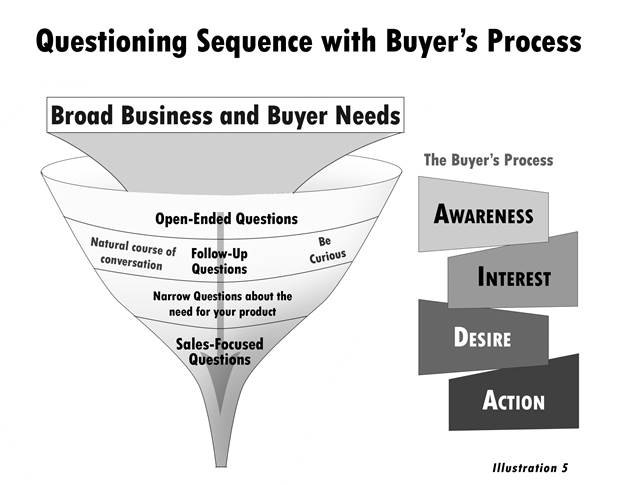 Sellers should think of this progression as an inverted funnel. At the beginning are broad, open-ended questions focused exclusively on the buyer's needs. As those needs become apparent, the funnel begins to narrow and the questions do, too. That's when the seller shifts to questions which reveal how the buyer's needs may be met by the seller's product. Finally, at the very narrowest point of the funnel, as the seller is beginning to see a clear solution for the buyer's needs, then (and only then!) the seller's questions become focused on the sale.
Another way of looking at this would be to overlay the question sequence funnel with the buyer's process. The process of buying starts with gaining awareness and then developing an interest. Only a buyer who is aware and interested will desire a prod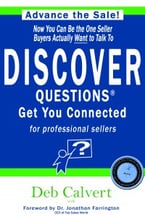 uct and take action to acquire it. Broad questions focusing on the buyer's need will open the buyer up to ideas the seller offers later because trust will develop and the seller will be differentiated. Interest grows when a buyer sees relevance and benefits. Sellers can only show relevance and benefits when they understand their buyers' needs clearly.
When sellers skip ahead to sales-focused questions, they are at risk of losing sales for two primary reasons. First, the sale is jeopardized when a seller offers a solution that isn't quite right for the buyer. By making assumptions about buyer needs and skipping questions which would reveal more about those needs, the seller misses the mark.
Benefits of Buyer-Focused Questions
Second, the sale is less likely to close when the buyer doesn't feel connected to the seller or to the solution. The process of asking questions about buyer needs not only reveals the needs but also builds trust, creates value, differentiates the seller, and facilitates a connection between the buyer and the seller.
Keep the visual of a funnel in mind as you contrast the kinds of questions to be asked at the beginning, middle and end of a needs assessment.
Next Steps:
To learn more about DISCOVER Questions® Get You Connected and how to make more sales by asking better questions, order your copy of this bestseller from Amazon.com
When you need sales or management coaching, customized sales training, or a dynamic speaker call us at 408-779-PFPS or book an appointment with Deb.
Check out these resources for sales managers and front line sellers. New webinars, infographics, research, podcasts and more added every month!

The award-winning CONNECT2Sell Blog is for professional sellers who believe, as we do, that Every Sale Starts with a Connection.
Deb Calvert, "DISCOVER Questions® Get You Connected" author and Top 50 Sales Influencer, is President of People First Productivity Solutions, a UC Berkeley instructor, and a former Sales/Training Director of a Fortune 500 media company. She speaks and writes about the Stop Selling & Start Leading movement and offers sales training, coaching and consulting as well as leadership development programs. She is certified as an executive and sales coach by the ICF and is a Certified Master of The Leadership Challenge®. Deb has worked in every sector and in 14 countries to build leadership capacity, team effectiveness and sales productivity with a "people first" approach.