As a sales manager, you're responsible for delivering results. Leading people starts with leading yourself and making choices that truly get the right results the right way.
For each sales manager goal and objective listed below, there are numerous ways to get those results.


What Are the Right Sales Manager Goals and Objectives?
The right results include:
Making the Numbers / Hitting the Goals
Sales goals are distributed among seller territories or categories
Targets for territories, categories, or accounts are set to maximize revenue potential
Forecast or budgeted sales numbers (monthly, quarterly, annually) are achieved
Sales activities and progress to goal is tracked and used to meet goals
Competitive, customer, and marketplace intelligence is used to informs forecasting
Growth strategies are developed based on market potential
Sales performance is analyzed and used to boost sales productivity rates
Keeping Customers Satisfied
End user experience with product is understood and accurately represented
Customer dissatisfaction is quickly and completely resolved
Customer needs for modifications to product, service, support are anticipated & addressed
Sellers have the tools, training and processes needed to respond to customer needs
Customers feel appreciated for their business and long-term relationship
Contract negotiations and complex situations are resolved in a timely manner
The business is represented in a positive and consistent way
Developing Sellers to Meet Goals and Expand Capacity
Expectations are clear, objective, consistent, and well-communicated
Regular check-ins with sellers help them maintain appropriate focus
Routine coaching stretches reps to develop competence and confidence continually
Technology, training, tools, and processes enable sellers to make more sales
The sales culture promotes high productivity, positivity, and a growth mindset
Sellers are recognized/rewarded for strong performance; poor performance is addressed
Recruitment, selection and onboarding set new hire sellers up for success
Let's illustrate this by looking at the first one on the list "Sales goals are distributed amongst seller territories or categories." For comparison's sake, imagine that you have a sales team with five territories. Your goal this period is $1 million. You could distribute this goal among team members a number of ways.
You could divide the goal equally among all team members, making each of them responsible for $200,000 revenue.
Or you could divide the increase vs. last year equally among all team members. Let's say the revenue attained last year was $950,000. Your YOY increase is $50,000, so you give each team member a goal that's $10,000 greater than prior year revenue in their territory. That means:
The territory with $500,000 revenue last year has a goal of $510,000. That's a 2% increase.
The territory that produced $50,000 revenue last year has a $60,000 goal. That's a 20% increase.
Although additional dollars expected are equivalent, percentages are not.
Alternately, you could evaluate the potential of each territory's accounts, growth, trending revenue, economy, and competition. There will likely be factors that uniquely impact each territory. One might have a high-growth business that is an established customer with you. Another might have a large loss due to a former customer shuttering its business. Goaling the first territory higher than the second, due to potential, is a realistic and fair approach.
What that means is that you're responsible not only for delivering results but also for getting the right results the right way. This box model may help you visualize the four options you will have in everything you do as a sales manager.


What is RR/RW?
Ideally, you'll be working in RR/RW most of the time. That stands for Right Results / Right Way. You get the desired results by doing work the right way, not shortcutting or taking steps that have unintended consequences.
In our example of goal distribution, the right way is one that keeps sellers motivated and still stretching to reach their goals. The right way is one that's based on potential, not based on some arbitrary number.
Sales managers may find themselves caught in the RR/WW snare of getting the Right Results the Wrong Way. An intense focus on results can mislead you to adopt a "winning at any cost" approach that justifies doing things the wrong way. When results pressure becomes overwhelming, the way you do your work will seem less important than the results you get. Proceed with caution! (And keep reading… you'll need some alternatives, stat.)
Being in the lower right-hand box (WR/WW) means you're not succeeding. If you're getting the wrong results and doing things the wrong way, change is imminent. You can choose to make changes, starting with doing things the right way. It's your best hope of turning things around. Otherwise, sellers are likely to leave your team. Ultimately, the company is likely to remove you from this job.
The final box deserves some discussion. WR/RW is getting the wrong results but doing things the right way. Usually, the right way leads to the right results. But it might require time and sustained focus to get there. Pressure for results, impatience with the process, or a lack of support as you're persevering could cause you to abandon the right way. If that happens, there's no guarantee of results… you'll be in the WR/WW box before you can move to RR/RW… that's two steps into the results you want vs. the single step if you do persevere and get into the Right Results, Right Way box.
This way of looking at your job begs the question: What IS the right way to do your job?


It's More than a Number
If you've been handed a number and nothing more, your natural inclination will be to do whatever you know to get those results. If you know how to sell, you're probably selling instead of managing. You might be wheeling-and-dealing, offering reduced prices and deal sweeteners in a "whatever it takes" rush to get sales closed. Or maybe you're driving sellers hard, pushing them to make more calls and sign more contracts "no matter what it takes."
Is that the right way to do your job?
It might be. But I wouldn't want to be doing business that way without others' awareness and agreement that this was the "right" approach. (Actually, I wouldn't want to do business that way no matter what… and that's why I always worked for organizations with a customer-centric and long-term focus… but I digress.)
Here's the point:
Do you know what others consider to be the right way to do your job?
Have you had discussions about the choices you will make as a sales manager?
Do you know the activities others expect you will complete?
The message and vision your senior team want you to convey?
The day-to-day behaviors they want you to model to others in alignment with company values?
Even though sales results are the primary metric of success for a sales manager, there's so much more that needs to be considered. Your career success depends on so much more than a number.
Here are just a few of the decisions that define "right way" to do your job. If you don't know the answers, get them! If the entire sales management team is in the dark, your sales culture is probably confusing for sellers (and that might explain why you have high turnover in the sales division).
Sales Manager Choices: What is the RIGHT Way in Your Organization?

Option 1

Option 2

Expect sellers to visit established customers more.

Expect sellers to call on new prospects more.

Customer-centered. Do what's best for the customer.

Sales-centered. Do whatever it takes to make the sale.

Get a quick hit. We need to make our goal!

Work to penetrate strategic, large accounts even though it requires a considerable investment of time.

Call frequently on a few targets, a "frequency" strategy.

Call on lots of prospects, a "reach" strategy.

Hold price. Maintain rate integrity.

Compete on price to win sales.

Sellers compete to earn commissions and recognition.

Work as a team to achieve shared goals.

Be a salesperson anytime extra sales talent is needed.

Be a people manager, coach, leader.
The right way will depend on what you sell and what brand you want in the marketplace. Some choices lend themselves to transactional vs. relational selling. Some are short-term and reactive while others are "bigger picture" and longer term. Some will be norms in one industry but atypical in another.
If you are a new manager in a new company (new to you), the "right way" from your previous employer may not be the right way here. Be sure to get clarity and to use these guideposts to consistently manage.
Of course, this all affects the work you do, too. It impacts the goals and objectives you focus on. It influences every interaction you will have with sellers who report to you. Knowing the right way gives you a navigation tool that eliminates confusion and keeps you on the path to success -- that's success as it has been defined by right way and right results.


Short-Term vs. Long-Term Perspective
One of the most important determinations to make is whether you're expected to focus short-term or long-term. This alone will make a huge difference in your day-to-day managing.
When you ask your boss, "Am I supposed to focus more on short-term or long-term?" you'll probably get the response "I need you to focus on both." Don't be deterred. You need more clarity than that. Obviously, you're expected to deliver short-term results (the number… this period, and every period!). But that's "right results." You need to know more about "right way."
Sales managers who get caught up in a short-term focus make big mistakes. They:
Drop prices to make a sale, not considering the long-term consequences of price selling.
Make sales themselves, not considering how this diminishes seller confidence and growth.
Keep sellers selling, neglecting training and development for sellers.
Cancel 1-to-1 meetings with sellers, neglecting to engage, enable and ennoble sellers.
React as if in crisis mode, never taking time to plan and proactively build for the future.
Managers who are conditioned for the short-term are under a great deal of stress, much of it self-imposed. They have high turnover and must constantly spend time recruiting, hiring, and onboarding sellers. They rush from one meeting to the next, trying to do their own job plus the job(s) of others. These sales managers are seldom successful. They can't sit back and say "numbers look good this quarter and next," because the numbers in the future don't look good. How could they when the focus is short-term?
The longer a sales manager (or team of sales managers) operates in short-term mode, the more the problems mount. Sales organizations suffer badly when this is the norm. It can overtake entire industries when sales directors and VPs move up through the ranks where this is all they've ever known.
When short-term is accepted as the "right way," it inherently impairs:
Innovation
Growth
Stability
Employer brand
Customer satisfaction
Profitability



A Sad Example of the Short-Term Mindset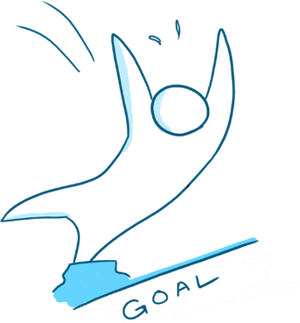 Want to see short-term thinking in action? Spend a little time with the sales managers at a newspaper.
Ever since the upheaval of the media industry in the early 2000s, short-term thinking has besieged advertising sales managers. It's a daily battle to meet deadlines and deliver on revenue at a time when advertisers have more options than ever (and most of those options seem less expensive, easier and more attractive than newspaper advertising). The pressures, coupled with a long history of operating day-to-day vs. long term, have this group in a deep rut.
Focusing on the short term means that you're desperate for every single sale. That desperation forces you (and sellers on your team) to choose options that deliver revenue today but cost you more than it's worth in the long run. One example is cutting price to close a deal today, just in time for this month's revenue goal to be met.
But now what? Now that you've made that deal, you've conditioned that buyer (+ all other buyers who hear about it) to wait for your desperation to kick in and discount the price again the next time. With this deal, you've got to make another small sale, too, to bring in the same amount of revenue you gave up in the discounting. And with that deal, you've devalued your offering. It's no longer worth the original price. The perception of value is forever diminished.
Here's another example, one you may not have recognized as a trade-off before. When you trade away long-term people development for short-term goal attainment, there is a profound impact. It may include:
Sellers conduct sales transactions and do not plan strategically for sales growth with accounts.
Sellers do not conduct thorough needs discovery and miss opportunities to create value and identify solutions.
Sellers prospecting calls are generic and offer no personalized value. Their outreach approach casts a negative light on the company brand.
Sellers are unable to close sales independently and rely on you to step in too often.
Sellers lack confidence and are overly concerned about being "pushy."
Sellers are unprepared for next-level opportunities.
Sellers have poor skills in contingency planning and do not innovate to overcome challenges.


The Long-Term Mindset
By contrast, when sales managers adopt a "right way" that builds for the long-term vs. exclusively aiming for short-term goals, they are willing to lose a sale if it means sellers will learn and grow so that future sales are not lost. These managers observe on sales calls even when the seller is struggling vs. jumping in to "save" the sale. They don't cut prices or make other desperation moves.
Instead, they believe in rate integrity and stand behind the value of their product. They model this to their sellers, teaching them how to negotiate from a position of strength. They also spend time with sellers, coaching and training them to build their competence and confidence.


Managing Sales AND Leading People
With a long-term focus, sales managers are able to see clearly into the future. They aren't tethered to a number and operating as if that number is the only thing that matters. They understand that the number matters and so do the people who are working to reach that number.
Successful sales managers simultaneously manage sales and lead people. They learn how to be leaders. They put people first. They prioritize work that builds the business by building the people.
For the most successful sales managers, the "right results" include people development right alongside revenue attainment. This is clearly communicated as part of the job description, expectations, performance standards, metrics, and reviews.
Activity goals for sales managers also help in defining the "right way" that includes people development results. Examples of activity standards for sales managers include:
Meets 1-to-1 each week with each seller to discuss sales performance and professional development
Spends 8 hours per week in ride-alongs, observing and coaching sellers.
Conducts role plays with sellers to check for skills mastery and prepare for sales calls.
Attends sales training alongside sellers and reinforces the skills learned in sales training.
Spends 30 minutes each day with new sellers in their first two weeks of onboarding.

For sales managers caught up in short-term focus, these bulleted activities may seem impossible. They will be until you stop doing the work of selling and scrambling. You will always be right where you are if you don't choose different priorities for people development.