In needs assessment, your primary focus is to find information you can act on. Questions should reveal your best sales opportunities.
No matter how interesting a tangent may be, you'll want to use questions to redirect the buyer back to topics that will yield sales opportunities. You can't spend all day listening. You can't solve every problem. That's why you need to focus on the sales opportunities you can discover and create with well-crafted questions.
Probe for Sales Opportunities

Ultimately, a seller's job is to sell. Learning about a buyer's needs is a means to that end. It is a means that serves buyers well and simultaneously helps sellers to be more effective.
But a seller should never lose sight of the fact that he or she is asking quality questions, understanding buyer needs, differentiating, creating value, building trust, strategically planning and aligning with the buyer's process so a sale can be made.
Sellers sometimes do forget that part. They get caught up in the needs assessment process and begin to think of themselves as pro-bono consultants to their buyers. The value buyers recognize when sellers ask great questions can be extremely validating. It feels better than hearing "no" and may entice some sellers to camp on the needs assessment phase for prolonged periods of time.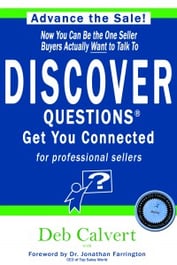 The biggest trap for a seller is pursuing buyer needs that are not actionable. Those needs may be interesting and important. But if the seller cannot offer a solution to a particular need, there must be a reasonable cut-off point to that part of the conversation. That's why sellers should proceed with caution when asking questions about needs they cannot act on.
How far should the seller go? Since the funnel starts out with broad questions about all types of needs, some non-actionable needs are bound to be raised by the buyer. The seller needs to probe those just enough to have context. The seller should not ignore needs expressed by the buyer – the natural flow of conversation shouldn't be disrupted, and the topics discussed do have merit for building trust.
On the other hand, the seller doesn't need to know all the details and dimensions of needs which are unrelated to solutions he or she can offer. This is where using questions to steer the conversation comes into play. The seller, by asking questions true to his or her strategic intent, can redirect without dismissing what the buyer has said.
The first step, then, is to understand the broad need. A seller should listen closely for clues about how he or she can be a part of the solution. Then, after probing the need, the seller must decide if there is a potential link to a solution he or she can provide. If not, then the seller should ask a question to probe another potential need (without moving too hastily to a sales-focused question).
Next Steps:
To learn more about DISCOVER Questions® and how to get connected in meaningful ways with your buyers, order your copy of this bestseller from Amazon.com
When you need sales or management coaching, customized sales training, or a dynamic speaker call us at 408-779-PFPS or book an appointment with Deb.
Check out these resources for sales managers and front line sellers. New webinars, infographics, research, podcasts and more added every month!

The award-winning CONNECT2Sell Blog is for professional sellers who believe, as we do, that Every Sale Starts with a Connection.
Deb Calvert, "DISCOVER Questions® Get You Connected" author and Top 50 Sales Influencer, is President of People First Productivity Solutions, a UC Berkeley instructor, and a former Sales/Training Director of a Fortune 500 media company. She speaks and writes about the Stop Selling & Start Leading movement and offers sales training, coaching and consulting as well as leadership development programs. She is certified as an executive and sales coach by the ICF and is a Certified Master of The Leadership Challenge®. Deb has worked in every sector and in 14 countries to build leadership capacity, team effectiveness and sales productivity with a "people first" approach.