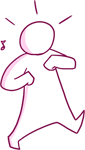 Buyers really do prefer to work with sellers who are confident. Confidence is not only among the sales tactics that work best, it's also a way to inspire buyers to be confident, too.
As a seller, it's a whole lot easier to feel confident and to convey that confidence when you feel ennobled in the work that you're doing.
Sales Tactics That Work: Ennoblement
Ennobled. That's a real word. It means to feel worthy, to see the nobility in yourself and in the work that you're doing. The opposite of ennoble is ignoble, which means to feel small or to feel bad about something.
In sales, we talk all the time about sales enablement -- the tools, the training, the resources that help you to be better able to do your work. But I hope that you're not enabled without also being ennobled.
It's also important for you to ennoble your buyers, to give them a feeling of being thought of as worthy … to be elevated and important, not in an insincere way, but in a meaningful, genuine way -- the way that you really view them as people who can participate with you in creating a solution.
Being ennobled as a seller and, in turn, ennobling your buyers creates bonds. Relationships form, and your buyers will see you as being differentiated from other sellers who are just showing up to complete a transaction.
Become Ennobled
To learn more about becoming ennobled as a seller and more about the preferences of buyers, be sure to get a copy of Stop Selling & Start Leading. You can find it on Amazon, Barnes & Noble, or Books-A-Million; or you can visit our website.