It doesn't matter where I go, what industry I'm working in, or the experience level of the seller I'm talking to … eventually the conversation turns to this one question: "Where can I get good resources and learning that I can do on my own?" Sellers are eager to find easy-to-access and quick ways to learn and refresh their selling skills. Too often, sales training webinars are irrelevant or inconvenient. Sellers are busy and maxed out and need support that comes just-in-time and in manageable, snack-size chunks.
That's why, nearly two years ago, I created The Sales Experts Channel. It's a place where sellers and sales managers can go to find free educational resources from some of the world's leading experts. These are sales authors, speakers, coaches, researchers, and trainers who have agreed to offer some of their expertise at no cost whatsoever.

100s of Sales Training Webinars, Easy to Find
We've had over 120 presenters on The Sales Experts Channel. They've created hundreds of webinars on a wide variety of topics. We've indexed those so they're easy to find, either by presenter name or by topic.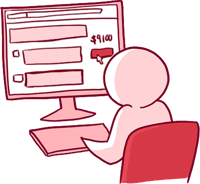 Any sales professional who's looking for an extra measure of knowledge, a competitive advantage, or a way to get recharged up ought to visit (and bookmark!) The Sales Experts Channel website. You may also want to consider subscribing directly to The Sales Experts Channel. That way, you'll always know what's coming next. You'll have an opportunity to listen in live when webinars are first presented. As a subscriber, you'll also get our monthly newsletter and suggestions about the other webinars that are similar to ones you've already selected.
In addition to subscribing to the channel and visiting the website, you're also welcome to join our LinkedIn group. This is the place where the Sales Experts do a deeper dive into the topics they've presented. This is a great opportunity for everyone -- even folks who missed the live presentation and listened on demand -- to ask questions of the presenter and get exactly the information and advice they're looking for.
Something else you should know about these webinars on The Sales Experts Channel: They all come with additional resources so, in addition to a 45-minute, non-commercial webinar, you'll get some tools and next steps you can take right away. The Sales Experts Channel was founded with a mission to disseminate good information and inspiration to the global sales community. I think you'll like what you find there because selling depends mightily on continual learning, and this is a robust resource you want to have in your repertoire.