Stop Selling & Start Leading: What's this All About?
You can wait until Dreamforce and join one of the world's foremost leadership experts, Barry Posner, and one of the world's Top 50 Sales Influencers, Deb Calvert, when they present their preliminary research and ideas about this revolutionary new approach (register here)... Or you can get ahead of the pack with this sneak preview about the Stop Selling & Start Leading movement.
Why a movement to stop selling and start leading? Because empowered buyers demand something more from sellers. To differentiate yourself and overcome buyer beliefs, you can't continue doing more of the same.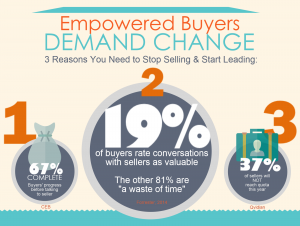 The changes in buyer beliefs and habits are irreversible. They aren't isolated or occasional. They aren't temporary responses to an economic downturn. These are profound and permanent changes. Sellers who want to succeed will shift to understand and adapt to these changes.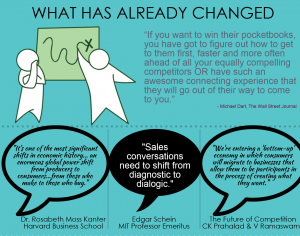 To start, sellers can learn bow to create value, co-create insights and generate demand. Each of these involves changes in how to interact with buyers so they are engaged as participants (not bystanders) during the sales/buying process. Your job is to create an experience. Asking quality questions is the key to getting started, the only technique that simultaneously creates values, co-creates insights and generates demand. (The bestselling book, DISCOVER Questions® Get You Connected explains how buyers respond to quality questions and will make you the one seller buyers actually WANT to talk to.)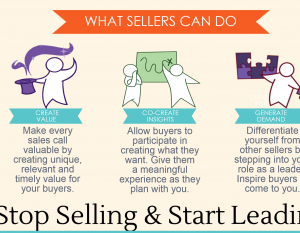 There's another shortcut to accelerate you ability to create value, co-create insights, generate demand and make more sales. This one has to do with your mindset and the behaviors that demonstrate it. You see, thinking of yourself as a seller and behaving like a seller just doesn't work any more. Buyers don't want to spend time with sellers. They do, however, want to spend time with leaders -- people who will inspire them, challenge them, and enable them to participate fully in the buying process. There are 30 discrete behaviors, proven by extensive research conducted by Jim Kouzes and Barry Posner, founders and authors of The Leadership Challenge®, to make leaders more effective. Sellers who behave in these ways, as leaders, can differentiate themselves and engage more buyers.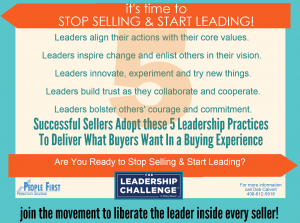 Want to learn more? Join us at Dreamforce in the VIP Dream Lounge. Pre-register and plan to attend September 15 at 1:00 p.m. Or you can visit our web page where new articles, interviews and events are posted. If you'd like to participate in this research, The movement is underway, and you won't want to be left behind.