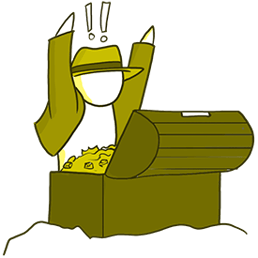 You've probably heard the buzz word and may have wondered "what is value creation?" If you're like most sellers, you may have assumed this is the same as value added.
Creating value is not the same as adding value. The bar has been raised significantly by empowered consumers who are looking for better, more, different, special and unique.
Adding value is expected in the course of regular business, and it takes many forms like customer incentives, no-cost options, loyalty programs and giveaways. It involves taking something with a value and adding it on for the buyer.
Creating value goes further.
It requires identifying what would be of value to an individual buyer and then finding or making a way for that unique value to be realized. Unlike added value, created value is original and unique to the one buyer it suits. A seller would need to know enough about each individual buyer to fully answer the question "what is value creation?"
Buyer demand for value creation has come about through a trickle-down effect. Companies began focusing on value creation to meet shareholder demands as competition escalated for many industries in the 1970s and 1980s. Now, 30-40 years later, consumers have followed this same pattern of wanting more, and they want it to come directly from their sellers.
What makes this challenging for sellers is buyers don't directly ask for value creation. Most buyers don't even think in those terms. All they know is they want a little something more, something different from what everybody else is already getting.
What Is Value Creation and How Is It Different?
Take a look at this table to better understand the differences between value, added value and created value. Give yourself and your company a quick evaluation – what value are you delivering and which type of value could you increase?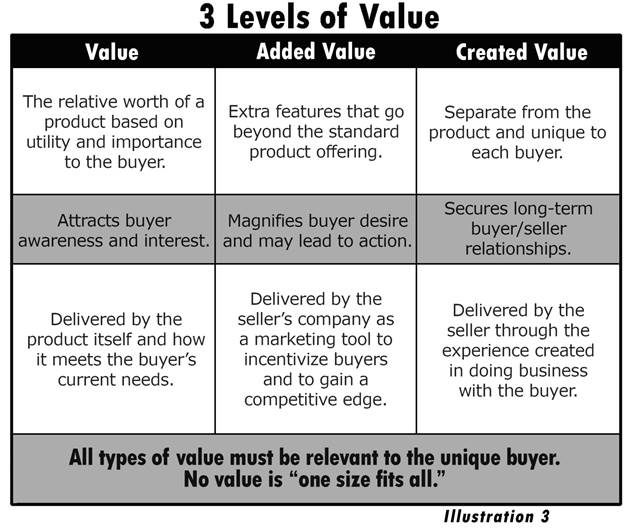 With each buyer, consider the question "What is value creation going to mean for this unique buyer at this moment in time?" This is how you'll begin to create value and deliver it with a meaningful and relevant experience for your buyer.
Next Steps:
To learn more about DISCOVER Questions® and how to get connected in meaningful ways with your buyers, order your copy of this bestseller from Amazon.com
When you need sales or management coaching, customized sales training, or a dynamic speaker call us at 408-779-PFPS or book an appointment with Deb.
Check out these resources for sales managers and front line sellers. New webinars, infographics, research, podcasts and more added every month!

The award-winning CONNECT2Sell Blog is for professional sellers who believe, as we do, that Every Sale Starts with a Connection.
Deb Calvert, "DISCOVER Questions® Get You Connected" author and Top 50 Sales Influencer, is President of People First Productivity Solutions, a UC Berkeley instructor, and a former Sales/Training Director of a Fortune 500 media company. She speaks and writes about the Stop Selling & Start Leading movement and offers sales training, coaching and consulting as well as leadership development programs. She is certified as an executive and sales coach by the ICF and is a Certified Master of The Leadership Challenge®. Deb has worked in every sector and in 14 countries to build leadership capacity, team effectiveness and sales productivity with a "people first" approach.

Editor's Note: This post was originally published May 2016 and has been updated.