The point of any needs assessment is to get actionable information from your buyers. Yes Or No Questions don't yield as much actionable information as other kinds of questions do.
Over the past five weeks in the CONNECT2Sell Blog, we've been examining questions sellers should avoid. Over the next four weeks, we'll review the additional types of questions sellers should use with care. Use these tips during the needs assessment phase of your sales process (or any time you're asking about buyer needs). To err on the side of caution, sellers should consider their own strategic intent before asking these types of questions.
Yes Or No Questions
In selling, closed-ended or "yes or no" questions do have very specific purposes to confirm or verify information. Asking a closed-ended question closes a topic and enables the buyer and seller to move on to the next one.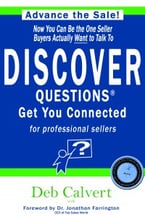 Closed-ended questions can be answered with a simple "yes" or "no" reply (which is why they're sometimes called "yes or no questions." They start with helper verbs like am, is, did, can, and have. They do not stimulate thought or yield long, involved answers. For this reason, they are less valuable to a seller who is working to understand buyer needs. They do not create value for a buyer who is interested in being challenged or for one who is looking for a seller's help in sorting out the best solution.
When asked in rapid succession, a number of yes or no questions will sound like an interrogation. The volley of questions and short replies can seem intrusive and may cause a buyer to wonder about the seller's intention. Additionally, closed-ended questions do a poor job of conveying curiosity and make it difficult for the seller to peel back layers of buyer needs for deeper level understanding.
For the seller who intends to fully understand buyer needs, closed-ended questions are much weaker than open-ended questions and command statements. Remember, open-ended questions start with who, what, where, when, why, which or how. Command statements start with "tell me more," "describe," "explain" and similar phrases.
Next Steps:
To learn more about DISCOVER Questions® Get You Connected and how to make more sales by asking better questions, order your copy of this bestseller from Amazon.com
When you need sales or management coaching, customized sales training, or a dynamic speaker call us at 408-779-PFPS or book an appointment with Deb.
Check out these resources for sales managers and front line sellers. New webinars, infographics, research, podcasts and more added every month!

The award-winning CONNECT2Sell Blog is for professional sellers who believe, as we do, that Every Sale Starts with a Connection.
Deb Calvert, "DISCOVER Questions® Get You Connected" author and Top 50 Sales Influencer, is President of People First Productivity Solutions, a UC Berkeley instructor, and a former Sales/Training Director of a Fortune 500 media company. She speaks and writes about the Stop Selling & Start Leading movement and offers sales training, coaching and consulting as well as leadership development programs. She is certified as an executive and sales coach by the ICF and is a Certified Master of The Leadership Challenge®. Deb has worked in every sector and in 14 countries to build leadership capacity, team effectiveness and sales productivity with a "people first" approach.