Don't define team work the way we do!
CONNECT2Win is the Blog about team effectiveness. It's for everyone who works with anyone. We define team work in the broadest strokes, focusing on helping team leaders and team members alike. That's not what your team should do!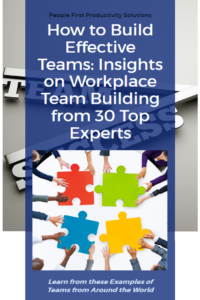 To be effective, you'll want to define team work in a way that is narrow and more relevant to the work your team does. While universal best practices can guide you, they will fall flat it they are clinically applied.
Your team members and your team are unique. The way you define team work should be unique, too.
For some teams, "team work" means that everyone spends a lot of time together and interacts frequently. For other teams, "team work" means little interaction but a high degree of trust and clarity when it comes to hand offs. There is no one absolute "right" way to work together as a team.
That's why we wanted to provide a variety of examples from successful teams around the world. We collected stories and tips from people who have been a part of a strong team, people on all sorts of teams from all around the world. Within their stories, you'll find much more than the textbook ways to define team work.
To get to the stories that enrich any definition of teamwork, download our free eBook, How to Build Effective Teams: Insights on Workplace Team Building from 30 Top Experts here. It includes examples from professors, pastors, artists, speakers, authors, journalists, the NBA, a U.S. Army Colonel, and professionals from HR, law, security, office management, training, sales, social media, finance and non-profit disciplines.
Their stories come from Kazakhstan, Afghanistan, New Zealand, Canada, the United Arab Emirates, Nepal, Nigeria, the U.K. and the U.S. They describe teams of young people and teams in retirement homes... teams in battle zones, teams on deadline, teams playing for high stakes, and teams working in to make the day-to-day grind easier for everyone.
While their locations and team compositions and fields of expertise are varied, their stories consistently demonstrate that success starts with the way you define team work.
Once you've found the right definition for your team, continued success comes from communicating and committing to your teams' shared definition. Clarity of objectives and focus on a common vision will get you through the rough spots and enable team members to support each other.
But those are just the headlines, the universally applicable takeaways. The stories in How to Build Effective Teams: Insights on Workplace Team Building from 30 Top Experts take you beyond those generic (albeit important!) ideas. They provide insight on what those ideas look like in practice, unique to individual teams as seen from the inside. We hope you'll download this eBook today and use it as a resource when you define team work and what it means for YOUR team to be successful.
Next Steps to Define Team Work for Your Team and Boost Your Effectiveness:
Subscribe to the CONNECT2Win Blog RSS feed if you'd like to receive new posts each Friday to help strengthen your team.
Download the companion piece - our free eBook "What Is Team Effectiveness & How Can We Get Some for Our Team? Stat!"
Learn more about the options available to help you enable and ennoble your team. Book a free consultation with Deb. No cost, no obligation.


The blog for everyone who works with anyone

Deb Calvert is President of People First Productivity Solutions, the company that helps you build organizational strength by putting people first. Book Deb today to facilitate critical team meetings, to speak at your leadership or team events, to conduct MBTI workshops to improve team effectiveness, or to work with you as your Executive Coach.