30 Examples of Supervisor Leadership and Successful Teams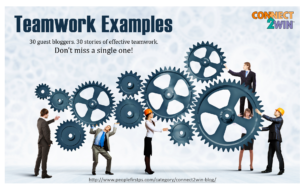 The #1 question we're getting about teams is this: Can you provide some examples of supervisor leadership and successful teams?
The answer is "Yes. Yes, we can." But we couldn't do it alone. So we invited 30 guest bloggers to offer their examples in this special series.
The series is fascinating. Different people from different sectors and from various corners of the world... Their stories, taken all together, provide powerful lessons in leadership and team effectiveness.
These are lessons for all of us, leaders at every level including individual contributors.
Checklist: Increase Employee Engagement
3 Main Supervisor Leadership Takeaways
You can find exemplary supervisor leadership and successful teams in any sector!
Business. Politics. The military. Non-profit. Education. Law. Sports. The Arts.
Our guest bloggers cover the gamut and delivered inspiring stories from a wide variety of sectors and types of teams.
You can find inspiring supervisor leadership and successful teams to emulate all around the world!
The U.S. The U.K. New Zealand. The United Arab Emirates. Nepal. Nigeria. Canada. Singapore.
While each story is different and many reveal cultural influences, the themes about teams translate universally.
The outcomes of supervisor leadership and successful teams are compelling.
Results are measured first in responses. Most of the guest bloggers in this series don't know each other and had no idea what others were writing about.
Nonetheless, story after story includes the impact on people when the team operates effectively. Sometimes it's supervisor leadership that drives the results. More often, successful teams are driven by determined team members. Without exception, someone is driving with an intent to make things better for others (including others on the team).
We hope you'll enjoy this series. The guest posts start tomorrow, July 2, and will appear daily through the end of this month. Be sure to follow the links provided by our guest bloggers -- you'll discover even more about great teams and the great people and companies who showcase them.