In an earlier CONNECT2Win Blog post, I mentioned the work I do to diagnose gaps in team effectiveness. Several readers asked for more information about the team assessment tools I use, so I decided to share my favorites here. Before I do, let me point out that I'm not getting paid to promote these. I choose not to participate in affiliate marketing to keep my recommendations pure and beyond reproach.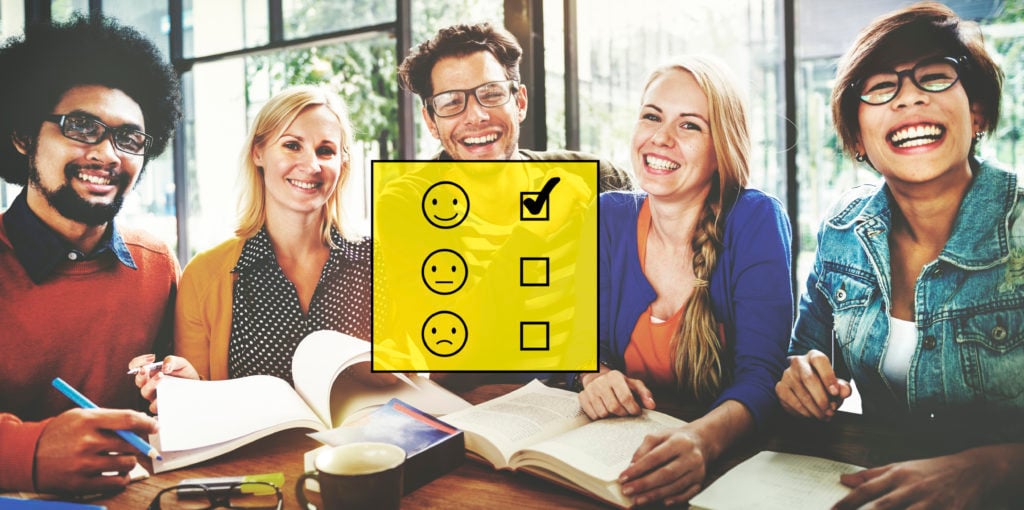 There are five team assessment tools that I use more often than any others.
I use these because they work. I've seen impressive transformations in teams and individuals who embrace these tools. In my own experience, I would rate these team assessment tools as more effective than others I have used or seen used.
Effective Work Teams Assessment Tools
First things first. Before we decide on a tool for your team, we need to consider the unique needs of your team. Randomly selecting a tool is putting the cart before the horse.
This is where a lot of team leaders and facilitators make mistakes when it comes to using team assessment tools. Because some of them reveal or explain gaps in team effectiveness, it's tempting to recommend the same assessment instrument(s) with every team. While this is not necessarily harmful, it can be a missed opportunity or even a waste of time for a team.
I know one talented facilitator who is a rabid disciple of one particular team assessment tool. She leads with it and builds all her team workshops around it. She's a true believer and doesn't recognize the blind spot she has because of her devotion to this particular tool.
Now don't get me wrong. It's not a bad tool. I use it at times, too. My only objection is her single-mindedness in prescribing the same solution for every team she works with.
Back to your team. Before you (or anyone you engage to help) prescribes team assessment tools, find out about the team's current needs and objectives. You don't need to know everything (the tool you choose will take you deeper!). But you do need to know enough to select the right tool(s) and determine how you will use them.
Team Assessment Tools for Getting Started
This is why I like to start with the simplest of team assessment tools: interviewing team members. When anonymity is important or the team is large, I employ a simple SurveyMonkey survey. The purpose of these preliminary inquiries is to learn more about team strengths and team needs. We won't need to do additional assessment work where the team is already functioning at a high level. Instead, we'll select tools that dig deeper into the areas where the team believes the needs are greater.
Giving the members of the team an opportunity to think about and share their perceptions usually accomplishes three things.
First, this ensures we are spending team building time on the right topics. There's nothing more frustrating to team members who attend a workshop than, at the end, to realize the bigger "elephants in the room" have not been addressed.
Second, we always learn more than the team leaders knew before. Even when they accurately identified the most urgent team needs, hearing from all members of the team provides additional information to make our team building time more productive.
Finally, giving members of the team a voice in shaping their work together increases their level of interest, buy-in and commitment. If the team is to grow stronger together, it's important to dignify the input and opinions of each member of the team.
Team Assessment Tools for Creating a Strong Foundation
When the team has long-term ties and big goals to accomplish, I often use the Team Assessment Report (TAR) from The Table Group. It measures the team's assessment of each other in the "Five Behaviors of a Cohesive Team" that are tied to Patrick Lencioni's book "The Five Dysfunctions of a Team."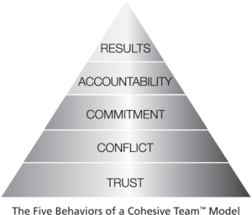 The TAR surfaces behaviors that team members can focus on to improve their ability to trust each other, engage in healthy and productive conflict together, gain commitment to their shared goals, be more accountable and drive for results together.
Because team members rate each other, I generally don't use this tool with teams who have only recently formed. For people who have no history together, this tool is less revealing. While the behaviors are still important to know and strive for, the assessment will only be guesswork until team members actually work together.
When the TAR has been completed prior to a team building workshop, we'll be able to focus in the area of team need. The collective responses are tallied to give green, yellow or red results in each of the five behavioral areas shown in the pyramid. Red areas are the ones of highest need; green areas are the ones that team members believe are already strong.
Because the entire model starts with a foundation of trust, I sometimes forego the TAR (especially with new teams) and go straight to team assessment tools that focus exclusively on trust. There are many good ones available including the Trust Quotient developed by Charles H. Green and the Speed of Trust from Covey.
If a team is working on the preliminaries, just beginning to explore the need to both trust others and be trustworthy, I like to start with this PFPS tool, the 12 Dimensions of Trust.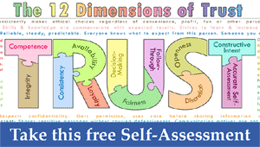 This is used most often as a self assessment. By building team member's awareness of the 12 different facets of trust, there is a quick realization that accidental breaches of trust may have occurred within the team. Understanding how others evaluate trustworthiness helps members of the team to adjust their own behaviors to avoid inadvertently causing colleagues to mistrust or doubt them.
Team Assessment Tools for Understanding Each Other
For teams that can benefit by developing individual self-awareness and appreciation of others' differences, I generally prefer the Myers-Briggs Type Indicator (MBTI).
It's important to note that this is one of the team assessment tools that has the most versatility and broadest application. An experienced MBTI practitioner can take a team

much further with this tool than the general introduction will. Doing cheap knock-off assessments online won't take your team anywhere near the full potential of this powerful instrument. Unfortunately, so many people have experienced watered down versions of MBTI that it doesn't get the full credit it deserves for being able to transform teams.
MBTI is an appropriate choice for teams that want to improve communication, collaboration, shared decision-making, learning or conflict resolution. Knowing, in advance, which of these needs to focus on makes it possible to use the MBTI in a highly specialized way that yields much more than a "what's your type?" curiosity.
For teams that are focusing primarily on resolving conflict, I recommend the Thomas-Kilmann Conflict Mode Instrument (TKI). It assesses the natural preferences of team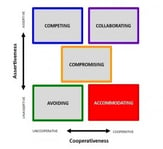 members when they are faced with conflict.
The TKI shows primary and secondary tendencies to Compete, Avoid, Accommodate, Compromise or Collaborate when faced with conflict. It is also reliable in predicting which style is likely to emerge when team members negotiate with each other or respond to stress as they interact with each other.
Activities that accompany the TKI, MBTI or any other team assessment tools should also be customized to the unique needs of the team and in consideration of the objectives they've outlined for the team building workshop. Engaging a skilled facilitator who is competent in using a variety of team assessment tools will help your team boost their effectiveness and camaraderie.
Next Steps for Boosting Team Effectiveness, with or without Team Assessment Tools:

Subscribe to the CONNECT2Win Blog RSS feed if you'd like to receive new posts each Friday to help strengthen your team.
Download one of our eBooks "What Is Team Effectiveness & How Can We Get Some for Our Team? Stat!" or "How to Build Effective Teams: Insights on Workplace Team Building from 30 Top Experts"
Learn more about the options available to help you assess your team's effectiveness. Book a free consultation with Deb. No cost, no obligation.





The blog for everyone who works with anyone

Deb Calvert is President of People First Productivity Solutions, the company that helps you build organizational strength by putting people first. Book Deb today to facilitate critical team meetings, to speak at your leadership or team events, to conduct MBTI workshops to improve team effectiveness, or to work with you as your Executive Coach.

Editor's Note: This post was originally published December 2016 and has been updated.