Team Building Concepts: What the Spurs Can Teach Us!
Team building concepts that create a positive and welcoming environment for team members.
Teamwork includes everything from collaboration, cross-departmental communication and relationships with partners and vendors. Is poor teamwork dragging your company down?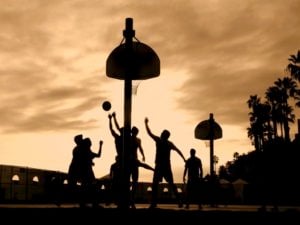 You're not alone. This is a problem I've seen in every organization with which I've been fortunate enough to work. One organization I worked with on these issues is Spurs Sports & Entertainment (SS&E). SS&E owns and operates the five-time National Basketball Association Champion San Antonio Spurs. Yes, even an organization often recognized for its culture of excellence faces teamwork and trust challenges.
Team Building Concept: Team Example
In the case of SS&E, those challenges didn't occur on the court. Rather, the company's leadership team noticed inconsistencies. For example, SS&E employees and its partners providing food and beverage operations, parking, security, merchandise sales, housekeeping and other services each contribut to the fan and staff experience. Although some of SS&E's partners are large, national corporations that offer the same services to sports and entertainment venues across the country, company officials didn't think their partners and employees were effectively working together to provide a seamless experience for their fans and staff.
"Then why do you call them 'contracted partners?'" I asked in my first meeting with SS&E's leadership. To me, use of the term separated the partners and served as a reminder that their contract could be canceled. "If you want them to be members of your team, why give them a label that separates them from you? Why not just call them 'partners'? Partners are in things together."
The language we use affects how we think, and that small change in semantics led to a huge change in results.
From that discussion, we were off and running. More importantly, we came up a plan to involve and include the partners in delivering a better fan and staff experience. Additionally, SS&E's leadership team contacted the regional representatives and local general managers of their partners and invited them to a meeting at the AT&T Center, SS&E's home. Company officials didn't provide an agenda for the meeting, and the partners were understandably curious when they noticed SS&E's entire executive team and internal department heads in attendance.
Team Building Concepts: Teamwork Solutions
"We are on a mission to improve the fan and staff experience at the AT&T Center," began one high-ranking SS&E official. "We don't have all the answers, and we need your help to figure them out. Our fans don't separate each of our staff members when they attend events. For them, it's all one experience. Our service delivery should be the same, regardless of who fans come in contact with. We hope to work side by side with you to build alignment, so all of our staff members — employees and partners — see themselves as being on the same team. We hope that you'll accept our invitation to do that."
I provided SS&E's team with a few suggestions, but the message and delivery were much more effective than I imagined. This approach allowed SS&E to open up to its partners, honestly and authentically.
The leadership team could have criticized the partners. More specifically, they could have threatened them with contract cancellations or new price structures. But they didn't.
Instead, they expressed their own vulnerability by admitting they didn't have all the answers. They needed help creating a seamless fan and staff experience. And they invited their partners to be part of a world-championship NBA team in a very real and direct way.
I am telling you, it was incredibly powerful stuff.
Team Building Concepts: The Fan Experience Committee
We spent the rest of that pivotal meeting describing what came to be known as the Fan Experience Initiative, and the partners were invigorated. Part of that initiative involved the creation of the Fan Experience Committee. In addition, this Committee included the partners and a representative from each SS&E department with front-facing employees. The goal: To positively influence a family culture in an effort to continuously improve the SS&E fan and staff experience.
Committee members would meet once a week to identify fan and staff experience issues and offer recommendations to improve service delivery. As a group — as partners — they would discuss challenges and offer solutions, and then vote on changes that would enhance the fan experience. Therefore, if those solutions didn't work, they would keep brainstorming.
Team Building Concepts
Finally, this process worked because committee members early on identified four key values:
Honest communication: Together, they face brutal facts about operations, including how to empower and trust employees and recognize high performers.
Respect: Everybody on this team is expected to participate and actively contribute. Facilitation of the meeting rotates each meeting, giving everyone the opportunity to lead discussions and propose solutions.
Commitment: All members are dedicated to attending meetings, thinking and acting unselfishly, and bringing enthusiasm and a positive attitude toward solving problems, researching solutions and fostering innovation.
Support: Opinions are respected and discussed, and conflict is actively brought to the surface to ensure competing perspectives are heard.
As a result of these efforts, fan and staff engagement satisfaction consistently is on the rise, and each year's average of combined mystery shop scores and event attendance has increased. Futhermore, all staff members at the AT&T Center participate in setting annual goals for improving scores, and each year, they meet those goals.
Team Building Concepts: What the Spurs taught us!
Thus, SS&E's Fan Experience Committee is a powerful example of how an inclusive approach to making decisions (and building trust) can lead to organization-wide improvements.
Are you facing some of the same hurdles in your organization? Are you and your partners falling short of creating a seamless experience for customers and staff? Are employees deflecting blame and eroding trust among coworkers? Finger-pointing between departments? Employee engagement on a downward spiral?
You don't have to run a sports and entertainment business to create a Fan Experience Committee in your organization. Heck, you don't even have to call it a "Fan Experience Committee." The key is developing a positive, welcoming environment for all team members — both in-house and out — that allows ideas and change to foster.
Finally, that's how you build a winning team.
As a Fan Experience Expert, Ruby Newell-Legner helps leaders in sports, leisure and entertainment build strong teams between frontline staff and management to make exceptional customer service a way of life. She has consulted with and designed customized training programs for all kinds of businesses — including 29 professional sports teams, plus hotels, convention centers and municipal entities from Denver to Dubai. Ruby brings unprecedented expertise and insight to creating a service culture that motivates employees and promotes customer loyalty and retention in any operation. Her book, Fan Base: Building Lasting Loyalty for Your Company Inside and Out, will be published in March 2017.