Team Tools and Resources to Boost Team Effectiveness
Is your team fully equipped? Do you have the team tools and resources needed to get the job done? Does every member of the team know how to access and use those tools and resources?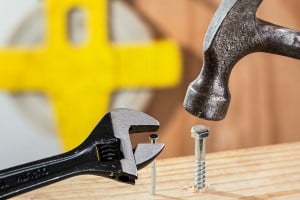 Considering a team's ability to access and use resources and tools is a natural next step in our series. Week-by-week, this is a breakdown of the Definition of Team Effectiveness (the capacity a group of individual has to accomplish their own and their shared goals and objectives).
There are three ways teams get this wrong, three ways that resource constraints impede team effectiveness. Whether you are a team member or a manager who has delegated work to a team, you can use this as a check-in to be sure you're providing or requesting the team tools and resources needed.
Poof! You're a Team! Get These Team Tools and Resources at the Onset
"Let's form a task force."
"We can put together a team to..."
"Cross-functional expertise is needed, so we'll just pull in some additional team members..."
STOP. This is an over-used solution that seldom solves anything. Appointing people to a team can create more problems than it solves.
To do it right, you need to do more than cobbling together a group of people. For starters, consider these kinds of team tools and resources as the team is forming:
Set up: Carefully consider the composition of this team. Don't appoint people to the team for the wrong reasons. Strong teams are well-resourced with people who have the right skills, experience, knowledge and authority to make decisions and advance the team's cause. As the team is getting established, avoid the temptation to staff it using any other criteria.
Training: No matter how much expertise is collectively represented on the team, consider the need for training in two areas. First, is this a group that needs training on how to work together as a team? That's not as remedial as it may sound -- it takes different skill sets to be effective in a team, especially if there are competing individual interests. Second, do members of the team have subject-matter expertise in this specific area? Similar expertise and high interest should not be substituted for specific training.
Role definition: Who will do what on this team? Is there an official team leader who is charged with mobilizing this group and delivering results? Is there a team sponsor who will champion this work and help get the resources needed? What is it that each team member is responsible for doing? In next week's CONNECT2Win post, we'll build on this component of team effectiveness and provide a blueprint for getting clarity for team members' roles and responsibilities.
Background information: Knowledge is power. Don't withhold it from the team. If there are past efforts, successful or not, let team members know. Any information that will influence how the team's work and recommendations will be received should be transparently shared at the onset.
Goals and purpose for the team: Specific outcomes must be defined for the team. Too often, teams are formed but the purpose for the team is vague and subject to (mis)interpretation. If there is no clear purpose, maybe there shouldn't be a team...
Expectations, time lines and deadline: In addition to the goals and purpose, specifics about the team's deliverables will help the team to be more effective. Setting deadlines and expectation will also clarify what it will take to get the job done. This will open up conversations about any other team tools and resources that may be needed.
Team charter: The team itself should work out an agreement. They will establish a charter for themselves about when and where to meet, how to communicate, what the interim deadlines and check-ins will be, how to resolve conflict, and so forth.
Budget: When asked to work with a new team, one of my first questions is "What is the team's budget?" The most common response is a blank stare. Teams seldom get their own budget! They are forced to beg, borrow and steal from other budgets if they need to fund research, supplies, equipment or travel. This is particularly problematic for cross-functional teams. But it's an easily avoided problem IF, at the onset, each department with an interest in the team's outcomes makes a contribution to the team's budget.
Administrative support: This is another rarity. It's important, though, to identify who will provide support in and beyond team meetings. Someone has to set the agenda, take notes, circulate the minutes, calendar the meetings, write up the reports, gather the research, book the meeting space... And so on. Getting a neutral and skilled admin appointed to the team is a smart way to resource the team.
WIIFM: Part of the prep that gives a team a strong start is simply telling each team member the "What's In It For Me" bottom line. People want to know why they should participate in addition to the how they should participate and what is expected.
Teamwork PLUS Your Full-Time Job... Don't Forget: Time is a Team Tool and Resource You Need!
The resource that is most often forgotten when it comes time to form a team is........ TIME.
People need time to work on a team. They need time to do the work required by a team if they are to truly contribute to that team. They need time they won't have if they are also expected to do their own full-time job.
Of course, this is all about expectations. Consider this contrast:
First, a manager who appoints an employee to a team that will meet daily and review work flow that involves 32 hand-offs along the supply chain.
Second, a manager who appoints an employee to a team that will review a single hand-off along the supply chain.
Manager #1 expects a lot more than Manager #2. Manager #1's appointee will be spending significantly more time on this team work than Manager #2's appointee will spend.
So, for anyone appointing or approving team participation, the expectations should be discussed early on AND the time allocation should be considered in that same discussion.
Manager #1's appointee needs back-up on the regular job duties in order to do the teamwork this manager expects.
Being over-taxed by teamwork compromises an individual's contribution to the team AND the quality of the work they do day-to-day in their regular job.
The Forgotten Entity: Keep Asking for the Team Tools and Resources You Need
Once formed and operating, teams tend to operate in the background. Over time, they may get overlooked. That means that they may be deprived of ongoing team tools and resources like information and updates. Everyone assumes someone else is keeping the team informed and in the loop. Teams need to advocate for inclusion and to provide updates often enough that they won't become the forgotten entity.
To make your team more effective, consider what team tools or resources you need to get the job done. If the outcome for the team is important, then adequately resourcing the team will be important, too.