Managing Teamwork Roles: The Makings of an Effective Trial Team
It is necessary to understand the balance of teamwork roles!
"The Case of a Career." That's what we called a massive litigation where I served as co-trial team leader. I represented a national financial services client in federal court and private arbitration claims. This case was against a former financial advisor, her lead subordinates and her subsequent employer. Simply put: our client alleged the defendants organized together to improperly use confidential client information and trade secrets to solicit business to the subsequent employer. Millions of dollars in lost assets under management and resulting revenue were at stake.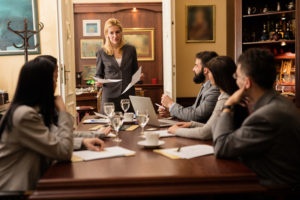 In all, 67 individuals were deposed nationwide. The parties exchanged more than 500,000 pages of documents. In addition, experts were retained for testimony regarding damages as well as computer forensics.
This litigation battle royale ranged over the course of 27 months. The federal court litigation at one point stayed until a 21-year-old former part-time employee provided our team, and later the federal judge, details of an improper copy project run out of another part-time employee's apartment. That revelation additionally led, in large measure, to the federal judge later sanctioning the financial advisor $51,000 for allowing her attorney to make false representations to the court in a temporary restraining order hearing.
After five weeks of arbitration proceedings, where we litigated a slice of our client's overall claims. Additionally, our team successfully obtained a monetary arbitration award against the financial advisor and her subordinates. The parties later reached a confidential settlement mere weeks before the federal jury trial was scheduled to begin. They did this while awaiting the federal judge's rulings on pending sanctions motions against defendants regarding alleged discovery abuses including the wiping of computer hard drives, bringing down the curtain on this all-consuming case.
Teamwork Roles for Success
From the beginning, we grappled with our own internal organization issues. To serve our shared client's best interests, our team, comprised of attorneys, paralegals and support staff from two law firms (from which we drew upon resources in two offices respectively), had to work as efficiently as possible. Inefficiencies would only serve to drive up our client's legal costs as well as weaken our efforts. Our opponents had no fewer than six lawyers from three law firms and their own support staffs. Any gathering of the parties' counsel resembled a legal convention.
For our own efforts, we quickly divided our team. I supervised all local efforts regarding discovery, the arbitration and the federal case. Also, I conducted or defended most of the local depositions, including most of the defendants and, critically, the young witness whose testimony blew the lid off of the stay in the federal case. Finally, my firm provided logistical support for the arbitration and federal case.
Defining Teamwork Roles
First, I served as local media contact on behalf of the team. Then, one of my partners, a retired state supreme court judge, served as our in-house judicial consultant. Also, my co-leader served as prime client contact. He gave the opening and closing arguments at the arbitration proceeding and deposed and cross-examined the financial advisor. Moreover, his firm provided the associates and lead paralegal for the case as well as his partners experienced in financial services arbitrations and computer forensics. Everyone played a role, and we worked hard to know our own role within the team and, critically, what roles we did not play. For trial lawyers trained as alpha leaders – we control our own work and cases – this was no small task.
Arbitration was five weeks. During this time, some of us were on-site, and on our client's clock, seven days a week, for as many as 17 hours a day. During this time, I set my own firm's record for monthly billable hours. Others team members, while still working seven days a week, cycled in and out of the proceedings as their particular areas of expertise were required. Our team's computer forensics guru, one of the partners from the other firm, cycled in for the critical testimony of all of the computer forensics experts. However, when prior customers were testifying, he did not appear at our counsel table.
Teamwork Roles Coming Together
By the time the curtain fell on our legal battle, our diverse team, comprised of some of the most gregarious and alpha personalities one could find. We blended together as a team with a unified goal. Furthermore, we represented our shared client to the best of our legal abilities with millions of dollars on the line. For 27 months we battled what was nothing short of trench warfare against well-funded, well-represented, determined opponents. We drew together as a team because we had to. Without putting aside our own professional egos, we never would have obtained the successful result we achieved for our client.
In the end, we became, to a person, colleagues.
Jay M. Dade (jdade@polsinelli.com) is a shareholder in the Kansas City office of Polsinelli, PC (Polsinelli.com). This is where he practices management-side labor and employment law representing clients nationwide. Jay is recognized by The Best Lawyers in America in the areas of employment law-management, labor law-management and litigation-labor and employment. He is a member of the Employment Relations Today editorial advisory board and a contributing editor of The Developing Labor Law. Jay regularly contributes to Polsinelli's national labor and employment relations blog, PolsinelliAtWork.com. He is a graduate of the University of Missouri (B.J., 1985; J.D., 1993), where he is a past president of the Mizzou Alumni Association.