Ever wonder if your teamwork skills are sufficient? These top five teamwork skills examples will produce a highly effective team.
Twelve years ago, I moved from my Financial Controller position to being the Project manager of a business transformation project in Kazakhstan. This project was followed by a similar project in Russia.
The Kazakhstan implementation was a disaster. Additionally, it led to delayed delivery of the project, project cost overrun and a dissatisfied client. Luckily, I had a manager who asked, "so what can we learn from this?". We implemented the lessons from the Kazakhstan project in the Russia project to astounding success.
I learned five top lessons in team effectiveness:
Teamwork Skills Examples: #1 - Recruit well
The key to having a great team is hiring the right people. Now the question is, what is the right team? I hired a team with great skills and the right attitude towards the project. In the Kazakhstan project, I didn't have much choice in the selection of the team. We were handed down a team that I had to work with. While everyone said the right things, not much got done.
When we moved to the Russia project, I mandated to hire the team. This time we were able to hire for skill but also for the right attitude - in our case, a can do attitude, willingness to go the extra mile and put up with tough conditions. Once I hired my first team member, then both of us together hired the next and so on. So everyone had a stake in who was hired into the team and was responsible for his or her success.
Teamwork Skills Examples: #2 - Early buy into team objectives and values
In the first project, since the team was handed down to us, we believed that they all knew and had bought into the team goals. Soon, it was clear that while most team members said all the right things when it came to committing to deadlines and processes, their heart was not in the transformation. More specifically, many of them believed that it would result in losing their jobs once the project was complete. By the time we realised that, much time had already passed.
In the Russia project, however, we not only hired for skills and attitude, we also took the time to explain the objectives, possible outcomes and expectations of the project to the team. Communicating this message had a huge impact in creating the right environment for the project to be executed.
Teamwork Skills Examples: #3 - Constantly build trust
As a team leader, I learned the need to constantly work on trust - not just within the team, but with stakeholders - internal and external. Given the nature of the project, there was always a sense of mis-trust with regard to how employees would be treated upon completion of the project. In Kazakhstan, this was compounded by the differences in language between the team members and with the stakeholders. For the Russia project, we had one of the team members translate all communication, verbally and in writing so that nothing was lost in translation. Also, we realised that communication, and sometimes excessive communication, was necessary to ensure that all team members were equally participative. Additionally, there were no gaps in understanding. To achieve this, I communicated with all team members in group and separately - multiple times of the day.
Teamwork Skills Examples: #4 - Play together, achieve together
One big differentiating factor in the Russia project was that we mandated that the entire team was going to have fun together. And, we did this multiple times during the course of the project. Some of the team members took it upon themselves to create practical jokes on team members - all in good taste and humour. Others ensured that we took adequate time off from work to celebrate small victories. This helped in breaking down barriers. One such example was attending a Russian wedding and drinking Vodka to the seemingly endless toasts.
Teamwork Skills Examples: #5 - Learn to let go of position
Finally, as the Team leader, I learned that each team member had the capacity to lead the team. I had to let go of the title and become the follower, when required. Thus, I needed full confidence that the team knew that the buck stopped at my desk. This lesson wasn't easy initially. However, as I grew trust the team, they learned to trust me. Our barriers broke down and letting go became easy. This skill ensured that the team was never without a leader, regardless of my physical presence.
Shridhar Sampath is the founder and General Manager of Motivaluate Consulting & Training FZ LLC, a company that offers a unique combination of business and financial consultancy services. He is an expert on Leadership, Strategy and Finance and speaks at various conferences and forums on related topics. He recently published his first book - "Done is Better than Perfect" - a collection of sixteen life lessons that have shaped his life. Shridhar has a CPA from the USA and a CA from India. He is a Certified Master in Training & facilitator of the Leadership Challenge® & Student Leadership Challenge® and a Certified facilitator of the Capsim Business Simulation. He is also a facilitator for Duke Corporate Education as a member of their Global Learning Resource Network. Shridhar can be contacted on shridhar@motivaluate.com
Next Steps to learn more on teamwork skills examples:
Subscribe to the CONNECT2Win Blog RSS feed to read more examples of team effectiveness in this guest blog series.
Download this free eBook "What Is Team Effectiveness & How Can We Get Some for Our Team? Stat!"
Learn more about the options available to help you enable and ennoble your team. Book a free consultation with Deb. No cost, no obligation.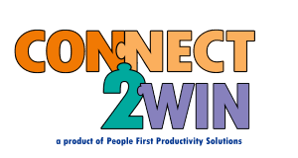 The blog for everyone who works with anyone
Thank you to Shridhar Sampath for this guest blog post on teamwork skills examples. This blog is a product of People First Productivity Solutions where we build organizational strength by putting people first. Our president, Deb Calvert, is a certified executive coach and leadership development specialist, working with teams to bring out the best in everyone.