When we started this new blog in early 2016, readers requested two things: examples of effective teams and a teamwork skills list to use as a guide. So we set out to make this blog a resource that would meet those needs.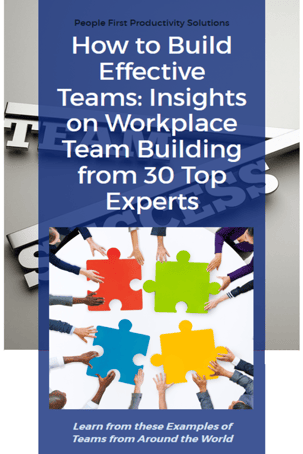 In July, we found a way to provide both. We asked 30 professionals and experts from around the world to contribute a guest blog post and tell stories about their teams. We got inspiring and instructive examples of effective teams. What's more, those stories included the characteristics and behaviors of effective teams. So, courtesy of our contributors, we've assembled the definitive teamwork skills list, below.
To get to the stories behind this list, be sure to download the free eBook that includes all 30 stories. How to Build Effective Teams: Insights on Workplace Team Building from 30 Top Experts includes examples from professors, pastors, artists, speakers, authors, journalists, the NBA, a U.S. Army Colonel, and professionals from HR, law, security, office management, training, sales, social media, finance and non-profit disciplines.
Their stories come from Kazakhstan, Afghanistan, New Zealand, Canada, the United Arab Emirates, Nepal, Nigeria, the U.K. and the U.S. They describe teams of young people and teams in retirement homes... teams in battle zones, teams on deadline, teams playing for high stakes, and teams working in to make the day-to-day grind easier for everyone.
While their locations and team compositions and fields of expertise are varied, their stories demonstrate that effective teams have a few things in common. We developed this teamwork skills list by first identifying the commonalities in their stories.
While this teamwork skills list provides a handy shortcut, you'll want to read these stories to get the full context and to understand how to apply each item on the list to your own team.
Use the list as a reference. I suggest putting it on the back page of your team meeting agendas or posting it during meetings. But don't expect the summary to stand alone. It's the by-product of the stories, and it makes a lot more sense if you read the stories that are behind it. Consider introducing the teamwork skills list to your team and asking each of them to read the free eBook. Sharing the inspiration and ideas from these 30 incredible teams will bring you closer together as a team.
The Teamwork Skills List from CONNECT2Win
Optimism and hope:
Focus is on possibilities, not problems
Alignment driven by a shared vision
Celebration of successes along the way
A sense of humor and camaraderie
Deliberate effort:
Team building activities are planned and have specific objectives
Togetherness is intentional, not happenstance
Action planning and forward motion
Transparency and clarity in communication and actions
Setting aside position power so everyone is equal
Respect for all members of the team:
Input is invited, accepted and expected
Conflict is healthy and productive, not personal or divisive
Emotional control and awareness of impact on others
Contributing "fair share" and holding each other accountable
Understanding one another's challenges
Team members offer:
Commitment to each other and the team's shared objectives
Trust and trustworthiness
Positivity and encouragement
Prioritization of team unity over individual ego
Flexibility
Remember, this is just a starting point. The teamwork skills list is not nearly as rich as the free eBook How to Build Effective Teams: Insights on Workplace Team Building from 30 Top Experts. We hope you'll download it today and enjoy newfound team success from this day forward.
Next Steps for Putting this Teamwork Skills List into Practice:
Subscribe to the CONNECT2Win Blog RSS feed if you'd like to receive new posts each Friday to help strengthen your team.
Download the companion piece - our free eBook "What Is Team Effectiveness & How Can We Get Some for Our Team? Stat!"
Learn more about the options available to help you enable and ennoble your team. Book a free consultation with Deb. No cost, no obligation.
Deb Calvert is President of People First Productivity Solutions, the company that helps you build organizational strength by putting people first. Book Deb today to facilitate critical team meetings, to speak at your leadership or team events, to conduct MBTI workshops to improve team effectiveness, or to work with you as your Executive Coach.