High Performing Teams: Why Is Team Building Important?
Why is team building important to creating high performing and effective teams?
When it comes to building high performing and effective teams, there are many qualities to consider. A shared vision, purpose, competence, trust, building relationships and inspiring high performance are all important building blocks of effective teams. I've selected a story to share with you where all these qualities are present. Moreover, it's the ability to take prudent risk, enable others to act and building confidence that made the real difference for our team.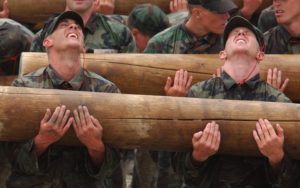 As a Colonel in the U.S. Army for over 28 years and a Leadership Challenge® Workshop Facilitator since 2014, a favorite story of mine occurred during the winter of 2012. I was the Commander of a Medical Task Force in Kandahar, Afghanistan. More specifically, my job was to provide Mission Command to 16 different medical units - everything from surgical units to veterinary units, spread out over every regional command in Afghanistan. My team was well trained. However, we were only slightly better than above average in terms of overall effectiveness, cohesion, and confidence and we weren't high performing by most metrics. The team needed a change.
Why is team building important? To encourage taking risks
Early in the deployment, my Headquarters Detachment Commander, Captain Eric Terrell, spoke with me about an idea which at first caught me off guard. He wanted me to challenge the commander of the Navy Surgical Hospital on Kandahar to an Army-Navy flag football game. The game would occur on the same day as the actual Army-Navy game back in the U.S.
Why is team building important? To enable others
But, before I answered him, I examined the risks. If we played this game in the middle of a combat deployment, we risked being frowned upon. Individuals might see this as lacking proper mission focus. Also, we might have key personnel injured that could require evacuation back to the U.S. The Navy Hospital outnumbered us by at least two to one. Unfortunately, there was a good chance we'd get our rear-ends kicked and that might be bad for the morale and confidence of our unit.
Upon completing my analysis, I decided the risk was acceptable. I determined that even if we lost the game, simply allowing the troops to participate and take their minds off the deployment would be good. So, I made the challenge. The Navy Commander enthusiastically accepted. Next, I informed Captain Terrell. Furthermore, he acted upon his idea and prepare our team for the game.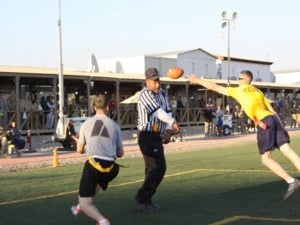 Word about the game spread quickly over the next month. I began to think we'd gotten in over our heads when the Kandahar Morale, Recreation, and Welfare (MWR) office heard about the game, visited us and volunteered to supply real pin-stripe referees, a sound system with announcers for the game and the national anthem. If that wasn't enough excitement, Armed Forces Network (AFN) visited next. They would bring a team in to televise the game. Needless to say, my anxiety couldn't have been higher.
Why is team building important? To build confidence
Game day was quite a spectacle and certainly lived up to all the hype. The Astroturf field we played on was loca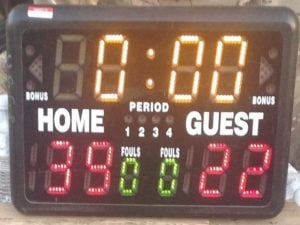 ted in the middle of the Kandahar Base Camp at a place called The Board Walk. The Board Walk was an elevated wooded walkway with merchant shops and eaeries that surrounded the field in a big 360 degree circle. More specifically, Kandahar was a joint-coalition base comprised of every branch of service and coalition partners from several different countries. On game day, they filled The Board Walk to watch the game. It was a truly in
credible game and both teams played extremely hard. To my surprise and delight, we won the game 39-22. Our star player and secret weapon ended up being CPT Terrell. He, unbeknownst to me, was a tremendous athlete and football player.
At first, I didn't fully appreciate the impact that this "small win". When I returned to work the next day, and for weeks and months to follow, I couldn't help but notice the positive attitudes and everyone smiling, confident and proud to be part of our Medical Task Force.
Why team building is important to creating high performing and effective teams:
Furthermore, I noticed significantly improved work performance in all areas and a decrease in disciplinary actions. In fact, the morale and cohesion of our unit was so high, our troops actually thought they owned Kandahar Airfield! As icing on the cake, AFN kept replaying the winning team game interviews for months after the victory. Every time our troops started feeling a little homesick, they'd see the victory again on AFN and regain their winning spirit. It was a gift that never stopped giving. Thus, our newly found confidence was the catalyst that enabled us to become a very effective and high performing team.
Finally, there are several lessons in this story that nest well with building effective and high performing teams. As leaders, we need to take the time to listen to our employees and believe that there is value in their ideas. More specifically, we must understand their ideas can result in tremendous benefit for our organization. Also as leaders, we must be willing to take prudent risk if we want our organizations and teams to become high performing. Enabling others to act and trust can never be over emphasized. I trusted CPT Terrell with his idea, allowed him to act upon it, and that trust paid off in an enormous way for our organization. Finally as leaders, we should master the small win and never underestimate the power, momentum and the change that can result. A small win can be a true game changer.
Colonel William Scott Scooter Drennon is Commander of the Academy Brigade (Prov), AMEDDC&S-HRCoE, Fort Sam Houston, TX. Responsibilities include providing mission command, training, administrative and logistical support for 2,750 assigned and attached personnel. Colonel Drennon is married to Mrs. Ann Marie Drennon. They have four children and two Grandsons.