Creating a Culture with Leaders at Every Level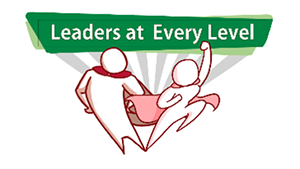 Workplace cultures with leaders at every level fuel engagement, create a sense of belonging, ennoble employees, and provide powerful competitive advantages.
Like any work culture, intentional focus is essential to get the culture you want. Every workplace has a culture, but without intentional focus the culture will be happenstance and shaped by the "squeaky wheels" and strongest cliques.
In previous posts, we've examined the importance of leadership at every level and described how to make it happen. Although we've touched briefly on the cultural impacts, this outcome merits a deeper dive.
The Elements of Engaging Workplace Cultures
Workplace culture is loosely defined as "how we interact and behave here, how it feels to work here."
In some places, the workplace culture is upbeat and energizing. The behaviors and interactions are productive, positive, and team-oriented.
In other places, the culture is cut-throat, highly competitive, and intense. The behaviors and interaction focus on winning.
And then there are those places with pervasive negative as the culture. The behaviors and interactions are focused on complaining, excuse-making and blame, gossip, and rivalries.
These are just three examples of loosely defined workplace cultures. They all result from the people currently in the organization and their attitudes.
Intentional cultures aim to demonstrate the company's values, staff for certain traits that support the desired culture, and ensure that the company is well-represented by employees (internally and externally).
In the era of the Great Resignation, the Quiet Quit, and the Gig Economy, many organizations are striving for cultures that will drive higher levels of employee engagement.
These three elements are essential to create an engaging culture, one that is evidenced by higher levels of retention and productivity, with more satisfied customers and top-line revenue that yields improved profit margins.
1. The cultural norms enhance the employee experience.
The employee experience includes every single touchpoint that an employee has with an organization. It starts when the employee is a candidate, interviewing for a job. It ends when an employee leaves (but might continue past that if there are retirement/pension benefits that maintain the connection to the employer).
Workplace culture can enhance the employee experience or impair it.
New employees sense the culture early on. It's revealed in the way they're onboarded – with positive, inclusive welcomes vs. being ignored and left to fend for themselves. It's often a vibe they pick up on – positive or negative, team-spirit or lone wolves, inspired or merely going through the motions.
Employee experiences are enhanced when the culture nourishes friendships in the workplace, coaching for development, getting all voices in when decisions are made, and valuing each individual.
2. The culture boosts team camaraderie and a sense of belonging for all employees.
Inclusivity is important. No one wants to be sidelined. All too often, though, decisions are made without full discussion. False harmony or top-down management accelerates decisions in unhealthy ways. Without being included, it's difficult to be committed to decisions. Feeling excluded also interferes with forming strong team bonds (unless those bonds are made up of mutual dissatisfaction with management).
Workplace culture can draw others into discussions and set norms where everyone participates in decision-making. Inviting and considering the opinions of all team members creates strong bonds and meaningful connections between team members.
3. The culture or "vibe" is clear, consistent, and attractive.
Culture is palpable. Positive or negative, you can feel it. That feeling influences how you respond – keeping up your guard, for example, as a means of self-protection in a culture that feels untrusting or closed off.
Engaged employees more often work in places where the undercurrent is positive. It's appealing because it's upbeat even when there are challenges to overcome. That vibe is also consistent, not fraught with constant ups and downs so that you're never quite sure what to expect.
This consistency comes from clarity. Everyone knows the values, the desired culture, the acceptable behaviors, and the benefits of being a positive influence on others.
How is your organization doing when it comes to these three measures of an engaging culture? If you're lacking in any of these, you can be sure that employee engagement is negatively impacted.
The Links between Workplace Culture, Employee Engagement and Leadership at Every Level
It's a simple cause-and-effect calculation. Let's break it down into three parts.
Positive workplace cultures that include the three key ingredients listed above will lead to higher levels of employee engagement.
Higher engagement, according to reams of research, will improve employee retention, boost productivity, increase customer satisfaction, yield higher topline revenue, and drive higher profits.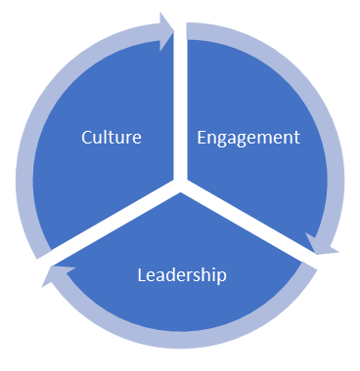 Employee engagement is defined as "an employee's emotional connection to the organization that causes him/her to apply additional discretionary effort to the work they do."
To get the emotional connection that is the driving force of employee engagement, you need effective leadership. There are 30 behaviors that are proven to have a double-digit impact on employee engagement, and these are all leadership behaviors. No other variable comes close in increasing engagement.
In other words, leadership development is THE key to getting all you want. Leadership and culture drive engagement. Leadership behaviors set the example for the culture and fuel others to behave as leaders, too.
Without leadership development, employee engagement suffers. The workplace culture is less likely to be a positive one where people contribute, grow, and have incredible employee experiences.
Leadership at every level is your best shot at getting higher frequency of engaging leadership behaviors.
Leadership at every level produces and reinforces all three of the critical elements for an engaging employee experience.
Leadership at every level is a culture worth building.
A Culture with Leaders at Every Level Is Contagious
Leadership at every level is also self-sustaining. By introducing everyone in the organization to leadership behaviors and opportunities/expectations to lead regardless of title or position, you'll be setting up these benefits:
Employee engagement soars (see above).

The employee experience makes you an employer of choice.

Leadership will be understood and accessed more often. Less fear, more innovation.

Leadership examples will surround employees and set new standards.

With examples and understanding, accountability for showing up as a leader is embedded throughout the organization.

Bench strength and "ready now" candidates make growth easier.

People grow. Their capacity and business acumen expands. They make better, faster decisions and can see "the big picture."
With highly engaged employees who are leading at every level, there is no downside. The investment in training and development is easily and quickly recouped as expenses are reduced (due to less turnover, less overtime, higher productivity, etc.).
To learn more about leadership at every level, book a consultation with Deb Calvert. No pressure, no obligation! This is the future of strong organizations, so why not get started ASAP?