5 Lame Excuses for Not Delegating
The job of a manager is to get work done through others.
Why, then, do so many managers do so much of the work on their own? Why don't more managers delegate more work to more people?
There may be some legitimate reasons for handling certain tasks that would, otherwise, be delegated. For example, a team with many new people may require a manager to temporarily absorb some of the workload.
In this post, I'm not talking about those exceptions. I'm talking about managers who aren't delegating and should be and could be. Here are five of the lamest excuses I hear for not delegating:
1. I don't have the time to delegate. It's faster to do the work myself.
2. I know they're busy, and I'd feel bad about giving them more work.
3. I like doing this work myself.
4. This is what I've always done. I'm known and valued for doing this work.
5. I don't think anyone else can do the job as well as I can.
These 5 excuses for not delegating all have three things in common. They are ego-driven, self-limiting and unfair to this manager's direct reports.
Sure, any one of this may also be accurate. But, if so, that's a problem. No manager should value his or her time more than the opportunity to invest that time in developing an employee. No manager should protect people from a challenge that will enable them to grow. No manager should hoard his or her work for pleasure or job protection -- doing so deprives others of learning opportunities AND jeopardizes the company's future effectiveness (think "hit by a bus" scenarios). Finally, no manager should expect perfection without giving people a chance to try, fail, learn and improve.
No manager should hunker down and keep doing work he or she has already mastered. There is always new work, higher level and more strategic work, people developing work, team building work and continual improvement work managers should focus on instead.
If you are using any one of these lame excuses for not delegating, stay tuned. We'll be talking about why and how and to whom you should be delegating more work to more often. CONNECT2Lead appears here every Monday morning.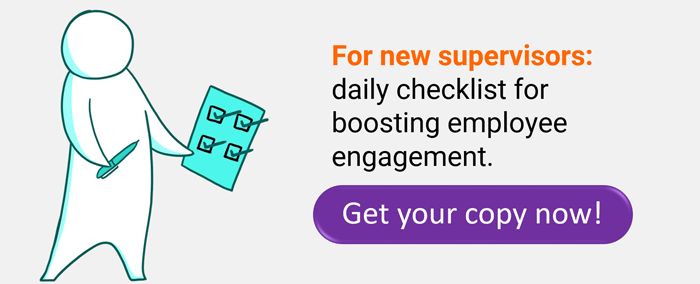 The CONNECT2Lead Blog and training programs are products of People First Productivity Solutions. We build organizational strength by putting people first. If you'd like to read more in the It's Your Voice: Use It Or Lose It Series for Leaders, subscribe to our weekly CONNECT2Lead Newsletter for special offers, content, and blog posts.
Editor's Note: This post was originally published August 2015 and has been recently updated.