You can't close a sale until you open and nurture a relationship with a buyer. You have to demonstrate value that is personal, meaningful, and relevant to the buyer. Sales does the work to open, nurture, and communicate value. Without this work, it's hard to create a great customer buying experience.
Despite this obvious truth, sales is often sidelined in conversations about the Customer Experience (CX). That's a problem because:
Sales is often the initial point of contact, the place where the CX begins.

Sales sets the customers' expectations.

Sales is often the customers' primary point of contact.

Sales can magnify, deliver, or undermine the brand and CX marketing intended.

Sales is usually the first to know what the customer values.
Sales can make the experience for a customer more enjoyable, getting to the top of the pyramid: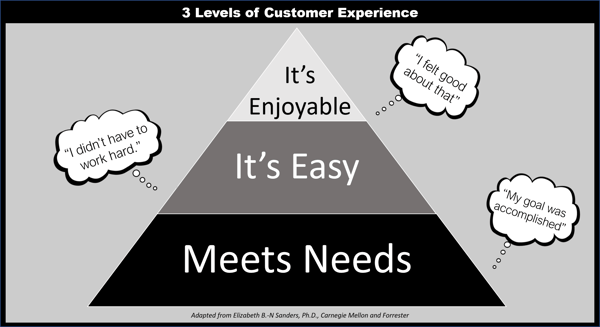 Digital experiences and transactions can meet a buyer's needs and, in some cases, make the buying process easy. But human contact is where enjoyment is most likely to occur. Providing an enjoyable CX is the key to differentiation and sales success.


What's All This Buzz About Customer Buying Experience?
In sales, understanding the Customer Experience requires distinguishing it from two other options.
Transaction:

the act of carrying something to a conclusion or settlement.

Interaction:

acting upon another or in close relation with another.

Experience: a particular instance of personally encountering or undergoing something.


The CX might include a transaction. It will likely include numerous interactions. But the Customer Experience will be made of all a customer's experiences with a brand or company. Every single one – starting with the visit to your website, the chat bot that pops up, the phone call or download, the follow up call from a seller, and so on. CX includes digital experiences and human experiences.
According to Blake Morgan, Customer Experience Futurist, Customer Experience "really boils down to the perception the customer has of your brand" (Forbes). To manage brand perception, consider all the elements that could affect how your brand is received. They all matter because the overall Customer Experience is what counts – an excellent interaction with one department will be considered right alongside a disappointment in quality or service from another part of the company.
The reason for the buzz is that we have entered into an Experience Economy. Buyers make choices based on experiences, not just on products or service or added value. Experiences cause buyers to emotionally connect to a brand (or not). Experiences cause buyers to remain loyal to a company (or not). And experiences justify, in buyers' minds, whether to pay a higher price (or not).
CX researcher Esteban Kolsky found that 86% of buyers will pay more for an emotionally satisfying experience that is relevant and personalized than for something generic. The value of a meaningful and unique experience significantly exceeds the value of the goods and services accompanying it.
What Are Buyers Expecting in a Customer Experience?
Buyers have high expectations when it comes to time spent with sellers. Buyers want "an awesome connecting experience" with sellers. That's made up of value creation through two-way dialogue and allowing the buyers to be "participants in creating what they want."
What's more, buyers respond more favorably to sellers who demonstrate leadership behaviors – they are more likely to meet with and more likely to buy from sellers who demonstrate 30 specific behaviors more frequently. This research is reported in the book Stop Selling & Start Leading.
Among the behaviors that buyers expect from sellers: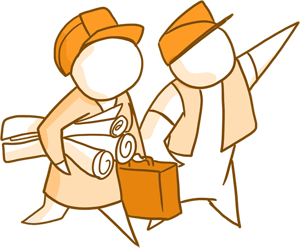 These behaviors, all ranked near the top by buyers, illustrate ways that sellers can directly involve buyers to create a positive CX. These behaviors are far more important and engaging to buyers that pitching, presenting, and other seller-focused activities that don't allow the buyer to participate.
There is more that buyers expect. But, for sellers, this is the right place to start. Until sellers provide customer experiences that involve the customer, they aren't making it an enjoyable experience.
How Can Salespeople Create a Great Customer Experience?
Mary Shea, Principal Analyst at Forrester, writes in her report "B2B Consultant Sellers Reign in the 21st Century" that "Sellers who are empathetic, have an operational mindset, and possess digital acumen will have bright futures." This same report highlights how to enable sellers and elevate their status to rebalance the power dynamic with empowered B2B buyers.
Shea recommends that sellers:
Take an omnichannel approach to deliver on both the digital experience and the human experience, reaching customers in the ways they want to be reached.

Be empathetic and trustworthy by making customer interactions relevant and meaningful.

Have strong soft skills in order to communicate value, tell a story and convey enthusiasm.

Be quick and nimble decision makers to evaluate data and act on it.

Engage in strategic collaboration with data scientists and marketers to personalize your message and reach buyers.
Sellers must understand the tools and technology that can save them time. By unshackling themselves from time-consuming processes and old-school tactics, sellers will have time to provide the human experience that emotionally connects them with buyers. Similarly, sellers must use the intelligence available through machine learning and various channels. It enables them to efficiently personalize their message to each buyer and earn a meeting and, later, a sale.
Sellers who are equipped with data and liberated to form connections will then need to demonstrate leadership behaviors that buyers desire. These behaviors are the essence of an "awesome connecting experience."
The CX of the future will not be all digital or all human. It will be a blend of both, and the strongest sellers will leverage what's available to create a great customer experience.
Where Can I Learn More About Sales & the Customer Experience?
Forrester's research is compelling and important for sellers to follow and for sales organizations to use in building the tech stack and CX.
For sellers who want to provide an "awesome connecting experience," the book is Stop Selling & Start Leading. It's based on research with B2B buyers and stories from sellers who made extraordinary sales by showing up as leaders.
This is the Experience Economy. Sellers can observe the experiences offered to them in B2C – everything from participating to create exactly what they want at Chipotle-style restaurants to attending DIY workshops at Home Depot to getting a makeover at Sephora. Sellers can learn from these retailers and find ways to equally engage their buyers. After all, B2B buyers are also B2C consumers – they're having these same experiences with retailers, and they're expecting equal participation in B2B.