8 Steps to Successful Delegation for Managers & Supervisors
When supervisors fail to delegate work and give others an opportunity develop, they limit themselves and others.
Managers who saddle themselves with technician work and recurring tasks leave no time to develop for personal development of higher level strategic skills. Further, the time they spend on work that could be delegated is time that isn't spent on coaching, mentoring, training or supporting the development of their direct reports.
Related: Employee Engagement Checklist
Why Should Managers Learn How to Delegate Effectively?
Of course, a manager's failure to delegate also deprives direct reports of growth opportunities. This impairs long-term growth of team capacity and reduces employee satisfaction and engagement.
Delegating is not something you do TO people. It's meant to be something you do FOR people. That's why shifting your paradigm so you will delegate for development is so important.
Recently, we've been posting about why managers don't delegate. We covered the 5 lame excuses managers offer most often and then we surfaced the real reason managers aren't delegating more work more effectively.
The next logical step is to talk about HOW to delegate effectively. Including these 8 essential steps will ensure successful delegation that helps everyone develop.
8 Steps to Successful Delegation for Managers & Supervisors
1. Select a delegate for the assignment.
Select based on delegate readiness, interest and stretch-ability. Here are six questions you can ask to narrow down your choices. You can also return for our next CONNECT2Lead post about how to select the right delegate for the task(s) you will be delegating.
2. Grant your delegate sufficient authority.
Micro-management is a symptom of poor delegating. Those behaviors also suggest that you don't trust the person you've delegated a task to. If you didn't delegate authority and autonomy along with the task, you didn't really delegate at all.
3. Set clear and specific goals along with any non-negotiable protocols for how the work is to be done.
You dignify people when you give them a clear framework without prescribing or monitoring every single action. For example, let your delegate know the goal, the specific timeline and deadlines, when you'll check in and what's expected when you do, plus any work practices that are absolutely fixed (because, for example, they affect handoffs to other departments).
Then step back and allow your delegate to modify (and improve!) processes, to try alternate ways of doing things (and to learn while doing so!).
4. Enable your delegate to achieve the goals.
Be fair and reasonable. You can't expect people to accomplish goals if they are lacking time, budget or access needed to get the job done.
5. Be a resource to support your delegate.
Without hovering, be available. Check in occasionally and make sure your delegate knows it is safe and expected to bring questions and updates to you. Handing off a task doesn't mean abandoning your delegate.
6. Assess your delegate's performance.
This is particularly important the third or fourth time the delegate is independently completing a recurring task.
Allowing for a learning curve means you are more involved on the front end as a mentor and teacher. As you gradually pull back, you will still check in and give feedback. Make it constructive and focused on continual development.
7. Give recognition for contributions made.
Recognize effort to learn and grow. Acknowledge the risk taken to tackle a new task. Celebrate success, including the little wins along the way that represent learning and growth. Encourage your delegate often so the new assignment won't feel like a thankless dump of undesirable tasks.
8. Maintain responsibility for outcomes.
You don't get to check out. As the manager, you are the one who is accountable for outcomes. Harry S. Truman's "the buck stops here" philosophy applies. If your delegate is not delivering on the desired outcomes, you bear some of that responsibility. Go back through steps 1-7 above to improve the outcomes.
Once you've delegated work, it's a bad idea to take it back. Planning for the delegation, effectively staging it and supporting your delegates will prevent you from ping-ponging the work in a way that causes others to feel your handoffs are merely self-serving.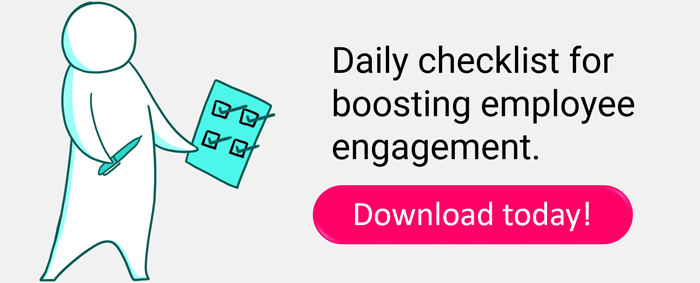 The CONNECT2Lead Blog and training programs are products of People First Productivity Solutions. We build organizational strength by putting people first. If you'd like to read more in the Delegating for Development Series for Leaders, subscribe to our weekly CONNECT2Lead Newsletter for special offers, content, and blog posts.
Editor's Note: This post was originally published August 2015 and has been recently updated.