Developing active listening skills is as easy as (and as difficult as) developing a new habit. A seller has to commit to changing what he or she is doing while listening.
The easiest way to start developing new habits for active listening is by taking inventory of your current listening habits. When someone else is talking, make note of your own behaviors. Catch yourself when your mind wanders and re-center your attention on the speaker. You will have to do this even when you begin mentally weighing your options for how to respond. If you do, your response will be better because you won't miss what the speaker says next.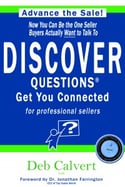 Two Simple Tips for Developing Active Listening Skills
One tip for focusing your listening is to jot down any disruptive thoughts. Writing them down will assure you can come back to those thoughts, and you'll release the mental energy it takes to hang on to them.
Another tip to focus your listening and prevent you from interrupting or playing a "one up" game is to listen for what is unfamiliar instead of for what's familiar. Our brains naturally tune in to what is familiar to us but, by doing so, we can easily miss what's new or different. When you deliberately practice listening for what is different – unfamiliar, new, unusual, unlike what you've seen or heard before – you will find your mental processing takes more time and keeps you focused longer and better.
These two tips are starting points for forming better listening habits. If a seller starts with just these two tips and works to improve his or her active listening skills, there will be a distinct differentiation as compared to other sellers. This, coupled with a strategic intent to fully understand customer needs, will give you a clear advantage.
Next Steps:
To learn more about DISCOVER Questions® and how to get connected in meaningful ways with your buyers, order your copy of this bestseller from Amazon.com
When you need sales or management coaching, customized sales training, or a dynamic speaker call us at 408-779-PFPS or book an appointment with Deb.
Check out these resources for sales managers and front line sellers. New webinars, infographics, research, podcasts and more added every month!

The award-winning CONNECT2Sell Blog is for professional sellers who believe, as we do, that Every Sale Starts with a Connection.
Deb Calvert, "DISCOVER Questions® Get You Connected" author and Top 50 Sales Influencer, is President of People First Productivity Solutions, a UC Berkeley instructor, and a former Sales/Training Director of a Fortune 500 media company. She speaks and writes about the Stop Selling & Start Leading movement and offers sales training, coaching and consulting as well as leadership development programs. She is certified as an executive and sales coach by the ICF and is a Certified Master of The Leadership Challenge®. Deb has worked in every sector and in 14 countries to build leadership capacity, team effectiveness and sales productivity with a "people first" approach.