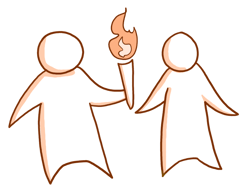 In last week's post, we talked about how some sellers shy away from calling themselves sales professionals. But I'm proud of my career in sales. That's because of sales ennoblement.
I've been selling since I was seven years old, going door-to-door to sell surplus vegetables from our backyard garden and winning contests for most candy sold as a Camp Fire Girl. I've never felt ashamed of being a sales professional, and I've never felt it was a role that was inferior to that of any other professional.
Related: Help Sellers Take Pride in the Noble Profession of Selling Again
How Sales Ennoblement Makes Me Proud of My Career in Sales
On the contrary, I have been positively influenced and shaped by my sales career. I've met some of the most incredible people – my customers, my colleagues and my competitors – because sales put me "out there" meeting people. I am who I am, in large part, because of the opportunities that come from being a sales professional. Here are just five examples of what selling has meant to me.
My first trip out of the country (as well as my second, third and fourth) was courtesy of my employer as a sales incentive. I learned how to work hard toward an ambitious goal, to be strategic in planning, and (bonus!) how much I enjoyed experiencing other cultures and places.
I learned about business and entrepreneurship by selling advertising to small business owners. I saw first-hand the challenges of building something from nothing and living the American dream. I learned what to do (and what not to do), and that equipped me to set out on my own over eight years ago to build a thriving business of my own.
When you're selling intangibles like advertising and training programs, what you're really selling is the promise that others will respond to the product you've sold. There's a certain responsibility a seller has to take for the results, and I've learned how to be accountable and proactive in striving for those longer-term outcomes. This has helped me immensely in my personal life as well as in my profession.
Making a difference in the lives of others is truly gratifying. In my career, I've been so very fortunate to have the opportunity to bring solutions to people that genuinely help them. The best part of selling something is the knowledge that the work you've done really mattered.
The skills I've learned in selling are transferable. By building skills that enable me to influence others, to ask thought-provoking questions and to listen, to collaboratively solve problems and bring new ideas, and to empathize, I have become a better human. I use these skills as a parent, as a business owner, as a friend and as a wife.
I feel disheartened by the persistent stereotypes about sales professionals and when I come across someone in sales who isn't reaping these kinds of benefits from the profession. And then I realize that it's like anything else – you get out of it what you put into it.
So if you are not feeling fulfilled in your sales job, maybe you should examine what you are putting into the role. Are you committed to being a sales professional? What are your motives for doing this job? Where do YOU fit in the work you're doing?
At People First Productivity Solutions, we work create sales ennoblement so sellers can find the joy and the fulfillment this incredible career offers. But it's not for everyone. And if you're really not dedicated to making the most of yourself as a sales professional, you won't see sales the way I do. Don't spend your life being miserable in a job that you aren't proud to do. Either make the commitment or make a change and do something else.

This blog post appears as the CONNECT! Community's emphasis this month on connecting with yourself. As a seller, understanding yourself enables you to be authentic and to form solid relationships with your buyers. For our regular features on connecting with buyers, check out CONNECT! Online Radio for Selling Professionals, read DISCOVER Questions™ Get You Connected or participate in CONNECT2Sell Training programs. Be sure to subscribe to the CONNECT2Sell Blog for weekly tips and techniques that will help you become the one seller buyers actually want to talk to. To God be the glory!