Throughout this CONNECt2Lead series about miserable meetings, we've introduced best practices for making meetings more effective. All the tips and techniques apply to both in-person and virtual meetings. In addition to those modifications, these suggestions are specifically for virtual meetings.
In-Person and Virtual Just Aren't the Same Experience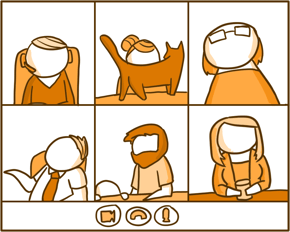 If you're conducting meetings virtually the same way you'd conduct them in-person, full stop. It doesn't work. The environment, engagement, and interaction isn't the same. So why should the delivery of information be the same?
Taking the needs of each attendee into account has never been more important. In a same-space meeting, participants can rely on each other for getting clarification or catching up on something they missed. When everyone is in the same physical space, it's easier to pick up on the puzzled expressions or subtle cues that something hasn't registered fully. In virtual meetings, the focus tends to be on the speaker more than on the participants, so the risk of leaving people behind is greater.
Statistics about meetings tell a grim tale of people being disengaged and feeling that meetings are a waste of time. Sadly, the numbers are even more dismal when meetings are virtual.
"At the root of the problem is a lack of face-to-face communication that holds employees accountable and reduces multitasking." (Fuzebox)
11% of meeting time is spent waiting for someone to arrive. (Circle Research/Barco)
"Meeting face-to-face is vital, with professionals preferring this method over all other meeting types." (Doodle)
33% of meetings are significantly disrupted by technology/connectivity problems (Udemy)
Only 53% believe online meetings are useful for day-today meetings (LoopUp)

The reality, though, is that virtual meetings are essential for many teams and organizations. Work from home any hybrid models are here to stay. Multi-location businesses, those with remote workers, and those with clients in other markets need to get better at conducting virtual meetings.
10 Simple Adjustments for Virtual Meetings to Be More Effective
As with same-space meetings, you want people to be engaged so meetings are productive. The desired outcome for a meeting should be supported by the meeting's set up and the participant's interaction and preparation. When the meet

1. Ease into the meeting. In same-space meetings, there's usually some casual conversation and social niceties as people enter a room. The visual cues and greetings "break the ice" and prepare people for interacting with each other.

In virtual meetings, getting dialogue at the onset requires a little more effort because the ice hasn't yet been broken. Using formal icebreaker activities and conversation starters makes the meeting fun and helps people engage with each other. An icebreaker can take 5 minutes or less and helps people transition from their previous activities and thoughts.

2. Have some fun in the ways you interact. Virtual meetings often feel impersonal and formal. Keeping people engaged is challenging due to their lack of shared space and physical closeness to each other. Tools can help engage people and demonstrate that you are serious about getting input from everyone. Mentimeter

is one of our favorite tools for engaging larger groups.

This list of collaboration, project management, IM, scheduling and other tools will provide a plethora of options to infuse energy and increase interaction in your meetings.

3. Provide instructions for everyone to run a tech check before the meeting. Ideally, teams that meet on a recurring basis will use the same platform each time. Non-recurring meetings, those conducted by other teams or organizations, and back-up platforms will require a little prep work to ensure everyone is able to attend without disrupting the meeting. Send specific instructions related to:

Getting familiar with the selected platform ahead of time
Reviewing and adjusting individual settings for audio, video and background
Testing the camera positioning and lighting
Selecting display options for gallery view, speaker view, screen sharing, etc.
Using tools that will be relied on in the meeting (breakout rooms, etc.)
What to do if there is a platform failure or if an individual is unable to enter the meeting (ex: how to dial in by phone)
4. Communicate expectations ahead of time. Provide answers to the unasked questions like:

Will people be on-camera? Is it required?
Is multitasking acceptable? Under what circumstances?
Will background distractions be tolerated? Or is a quiet, secluded space needed?
Who will control muting/unmuting? Individuals or the facilitator?
What's the best way to offer input? Chat, speak up, raise a hand?
Will the meeting start on time or only after everyone arrives? Is there a grace period before are considered "late" to the meeting? Is there a consequence for being late?
Is this meeting going to be recorded for those who can't make it?


5. Set an example of being fully present. Meeting leaders set the standard in virtual meetings. If the meeting leader is distracted, multitasking, low energy, off camera, unprofessionally groomed, etc., others will adopt those standards. Conversely, when meeting leaders are fully present and highly engaged, others respond in kind.



6. Use the waiting room to bring everyone into the meeting at the same time. This will reduce the need to repeat welcomes or other messages as people arrive. It will also ease the awkwardness for those who arrive early but aren't quite ready to interact with others.

7. Use virtual tools. Most platforms have robust offerings that are underutilized. These tools increase engagement, clarify and capture important information, and make meetings more interesting and dynamic. Learn how to use these features:

Whiteboards
Shared markups
Emojis and reactions
Votes/polling
Breakout rooms
Naming attendees
Screen and app sharing
Accessibility and translation features
Transcription and recording options
Document sharing


8. Disable 1-to-1 chat options. It's a group meeting, so make the sharing all or none. This will eliminate the oopsies when a private message is accidentally shared with the full group or with the wrong person. It will also ensure that side conversations aren't disruptive.

9. Make it easy to attend. Send the meeting link in the calendar invitation and in any emails about the meeting. Include the back-up plan like a phone number for dialing in.

10.Add a technical support

role/responsibility

. Appoint a team member to be the go-to person for anyone that's having difficulty. It should not be the meeting leader or facilitator because that will require all in the meeting to be "on hold" while an issue is addressed for one individual.




Special Considerations for Mixed Meetings (Some Attending In-Person, Others Virtually)
When some of your meeting's participants will be together in one space and others (even one other) is attending remotely, it's especially challenging to create an equivalent and engaging experience for all.
What happens most frequently is that remote attendees are treated as observers. They aren't included in discussions. Their body language and facial expressions are not apparent to others. They can barely get a word in edgewise due to technology delays, being muted or at lower volume. And they feel removed, so it's less likely they'll participate.
Sometimes, the problem is that a facilitator is over-compensating and catering to virtual participants in a manner that seems unnatural and breaks the flow of discussion. Virtual participants can feel like they're being put on the spot when they're excessively called on or when the check-ins focus heavily on their needs.
To enhance connections between those in the same space and those attending remotely, try one or more of these strategies:
Partnering between virtual and same space participants. Pair people up and encourage them to have chat or text exchanges. Keep them together in breakout sessions (onsite participant calls remote participant). Make the onsite participants responsible for calling attention to their remote partners' input or questions.


Bridge facilitation that is considerate of remote participants' preferences and needs. This requires a facilitator who knows the participants and/or sets guidelines with them prior to the meeting. The bridge facilitator (not the same person as the main facilitator) works as a representative for those not attending physically. Questions are channeled through this individual. Input from virtual participants is coordinated through the bridge facilitator.


Rotating focus with some topic discussions starting with the virtual participants and others starting in the same space group. Though structured, this approach ensures that the same people aren't always first to steer the conversation.
Same space but using laptops. Typically, the camera view is set wide angle or 360 so that those attending virtually see the whole group from a distance. Those attending virtually sometimes appear onscreen, but more often their faces don't appear at all. Consider bringing everyone into the meeting via their own laptop display. Those in the shared space mute sound to avoid feedback, using a conference call speaker or similar set up instead. By being able to see everyone, there's an increased chance of getting everyone involved.
In mixed meetings, avoid making those who aren't physically there feel isolated. Inclusive meetings are essential for quality decision-making, buy-in, and engagement.
A little pre-planning and consideration for participants' needs will go a long way in enhancing the effectiveness of your virtual meetings.