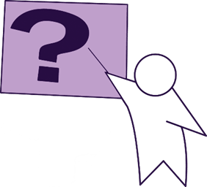 The questions you're asking buyers may be good. But you can ask better questions simply by thinking through the purpose of each and every question you ask.
Contrast these three question pairs to distinguish between the before and after versions of questions.
The "before" questions were vague because the sellers weren't quite sure what they wanted to achieve. The "after" questions are better questions because the seller paused to get clarity.
Related: Which Selling Behaviors Are Your Buyers Looking For?
How to Ask Better Sales Questions
Better Sales Questions: Example #1
Before: You've been with ABC Company a long time, right?
After: Tell me more about your history with ABC Company.
Intention: To understand the buyer's history and background, not merely to generate "small talk."
Better Sales Questions: Example #2
Before: Do you have any plans to expand in the near term?
After: What is your strategy in this market over the next 5 years?
Intention: To learn about the 5-year strategy in one market.
Better Sales Questions: Example #3
Before: How are we stacking up so far?
After: What will the deciding factor be in choosing a supplier?
Intention: To identify the top decision criteria in supplier selection.
Starting with the intention enables sellers to craft more effective questions, like the "after" questions shown here. Before you ask a question, ask yourself "what do I really want to know and why?" This mental exercise will instantly improve the questions you ask.
Once you pinpoint what it is you're interested in, your question will be more specific. The buyer's answer will give you the information you're looking for. You'll be less likely to belabor the interview with follow-up questions that go in endless circles. The construction of your better sales questions will yield the content you desire.
Next Steps:
To learn more about DISCOVER Questions® and how to ask better questions, order your copy of this bestseller from Amazon.com
When you need sales or management coaching, customized sales training, or a dynamic speaker call us at 408-779-PFPS or book an appointment with Deb.
Check out these resources for sales managers and front line sellers. New webinars, infographics, research, podcasts and more added every month!

The award-winning CONNECT2Sell Blog is for professional sellers who believe, as we do, that Every Sale Starts with a Connection.
Deb Calvert, "DISCOVER Questions® Get You Connected" author and Top 50 Sales Influencer, is President of People First Productivity Solutions, a UC Berkeley instructor, and a former Sales/Training Director of a Fortune 500 media company. She speaks and writes about the Stop Selling & Start Leading movement and offers sales training, coaching and consulting as well as leadership development programs. She is certified as an executive and sales coach by the ICF and is a Certified Master of The Leadership Challenge®. Deb has worked in every sector and in 14 countries to build leadership capacity, team effectiveness and sales productivity with a "people first" approach.
Editor's Note: This post was originally published August 2016 and has been recently updated.