Buyers Expect Accurate Self-Assessment. They want sellers who understand and acknowledge their own limitations, sellers who seek and accept help when needed. Your buyers will not trust you if you try to Fake It 'til You Make It in Sales. That's a sure-fire recipe for failure.
In our continuing series on the 12 Dimensions of Trust, each of the 12 dimensions represents one of the 12 ways a seller can build or erode trust with buyers. Each associated action creates a connection or causes a disconnection. Knowing about all 12 Dimensions of Trust empowers a seller who wants strong connections founded in trust. Not knowing leads to buyer mistrust and seller confusion. Accurate self-assessment is the final dimension, the one that explains why you can't Fake It 'til You Make It in Sales.

"Seller seeks and accepts help when needed" is the only reasonable alternative to Fake It 'til You Make It in Sales.
This dimension of trust goes hand-in-hand with "strives to learn" and the first dimension of trust, competence. A seller must be competent and also willing to acknowledge his or her own deficits. Over-estimating one's own abilities results in sub-par performance, delays and missed opportunities. Asking questions to understand what is expected and what alternatives are acceptable will help sellers see more clearly what resources they will need in order to fully satisfy their buyers.
Next Steps:
To learn more about DISCOVER Questions® and how to get connected in meaningful ways with your buyers, order your copy of this bestseller from Amazon.com
For more tools, resources and content about connecting with your buyers and advancing the sale, visit our website. You'll find lots of free webinars, infographics and podcasts.
For individual sales coaching, group sales training, bulk book orders, or other services and products, call us today at 408-779-PFPS or e-mail deb.calvert@peoplefirstps.com
This blog post features an excerpt from the best-seller "DISCOVER Questions® Get You Connected." To learn more about how to connect with buyers and gain their trust, buy the full copy o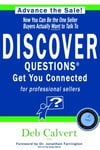 f this award-winning book from Amazon.com as a paperback or e-book. Author Deb Calvert is also available to speak at your next sales conference or to provide training for your sales team on how you can become the ONE seller that buyers actually WANT to talk to.